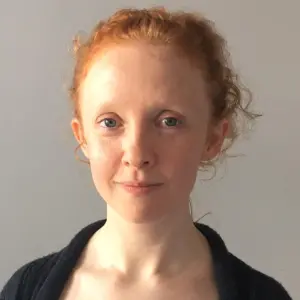 Online English Tutor
Jennifer 5.0

1 classes
University of Cambridge - English - MA (Cantab)
Warm and friendly tutor with over ten years' teaching experience. An English specialist and 11+ expert with an overview of school entrance processes, and a fun and personal approach.
Recent Students:

0

Total Hours:

1

Last Online:

31 Aug 2021

All-time Students:

1

Total Classes:

1

Signed Up:

17 Mar 2021
About Me
I have been tutoring regularly for ten years, and I love the challenge and variety this brings. Helping students see what they're capable of is a wonderful feeling!

With English there is no 'right' answer, so we can always learn by understanding others' perspectives. Curiosity is key and I strive to create this in my lessons.

Separately, I am a writer and artist, and love to bring creativity into learning.
Tutor Experience
Ten years of tutoring experience, online and offline. I have access to online whiteboards and platforms that help create organised and dynamic lessons.

My degree was in literature, and I am an English specialist teaching at all levels, as well as being an 11+ expert.

I take a structured approach to grammar and vocabulary learning where required for 11+, verbal reasoning, or where English is a second language.

With GCSE and A Level, I pay close attention to structures that work to create convincing, concise responses, and maximize a students' marks. Alongside learning literary techniques and expanding range of expression, I strive to draw out exciting details from set texts, and find the student's own unique viewpoint.

I am highly experienced in 11+ preparation for a broad range of independent and grammar schools.
Topic Expertise
I am an English specialist, with experience across all exam boards for English Language and English Literature GCSE, including iGCSE, as well as A Level.

I also teach all Humanities subjects and French and German to GCSE Level, and Drama and Theatre Studies and Religious Studies to A Level.

11+: I teach English, Maths, Verbal Reasoning and Non-Verbal Reasoning, for ISEB Pretest and school-specific examinations.
I have a wealth of experience preparing students for: University College School, Winchester College, Harrow School, St Paul's and St Paul's Girls Schools, Latymer Upper and City of London School amongst many others.

13+: I teach all subjects for 13+ and Common Entrance.

Oxbridge entry: I help prepare prospective English candidates for interviews and entrance examinations - all candidates I have worked with have been offered a place.