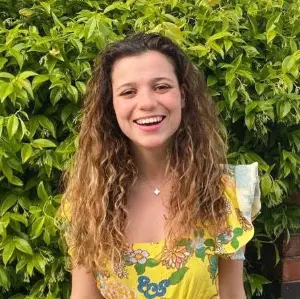 Online History of Art Tutor
Cora 5.0

40 classes
UCL (PhD), Courtauld Institute of Art (MA), University of Cambridge (BA) - History of Art - PhD
Experienced and Enthusiastic History of Art Tutor: PhD student with First Class BA from the University of Cambridge and Distinction in MA History of Art from the Courtauld.
Recent Students:

1

Total Hours:

46

Last Online:

24 Jun 2022

All-time Students:

5

Total Classes:

40

Signed Up:

05 Apr 2021
About Me
I combine an excellent academic background in History of Art with six years of tutoring experience. I am in the first year of my PhD in History of Art at UCL where my research is supported UCL's top scholarship. Prior to this, I graduated from the Courtauld Institute of Art with a Distinction in MA History of Art (2020) and hold a First-Class BA in History of Art from the University of Cambridge (2018). At both Cambridge and the Courtauld I was amongst the highest-ranked students in my cohort.

I have extensive experience tutoring students for History of Art, History and Fine Art. My style of tutoring is centred on developing students love of their subject alongside boosting their academic performance. As such, my lessons are well structured, informative and engaging.

I am committed to tutoring throughout my PhD (up to 2024) and have a valid, Enhanced DBS.
Tutor Experience
I began tutoring in 2015 and have since worked with a large number of students. My style of tutoring centres around structured and engaging lessons that build students love of their subject alongside boosting their grades. My lessons all involve open-ended questions and, like supervisions at Cambridge, develop through dialogue.

Below is a short list of some of the tutoring work I have done and I can provide a substantial tutoring CV:

History of Art:
MA and BA
A-Level/Pre U
UCAS/Oxbridge Entry
MA Applications
Dissertations
Introduction to History of Art lectures.

History:
BA
A-Level/Pre U
GCSE
13+

Fine Art:
BA extended essays
A-Level/Pre U
13+
UCAS
Topic Expertise
History of Art is my principal subject and I also teach History, Fine Art and essay writing to humanities students more broadly.

I have specialised in twentieth-century art (my PhD is on post-war American art) but I can tutor across all periods and themes within History of Art

A focus of my tutoring has been helping university students develop their academic writing and assisting with coursework and dissertations. I have tutored History of Art to students on BA and MA courses at the following universities: Oxford, Cambridge, Leeds, Manchester, Bristol, Exeter, Edinburgh, St Andrews, Trinity College Dublin, The Courtauld Institute of Art and Birmingham.

I am familiar with all major exam boards for History of Art, History and Fine Art A-Levels and Pre-U including Edexcel, AQA and OCR. I have created specialist resources for A-Level and Pre U history of Art.

Additionally, I have a superb track record of tutoring students for entry to Oxford and Cambridge - 12 of my former students have secured places. I am able to work with students on all aspects of their UCAS applications.
Client Reviews
Cora is an amazing tutor! She is so very helpful! She has provided me with lots of comments regarding revision techniques that I will implement in my revision preparation. I found her advice regarding folding over papers with dates and writing out key facts on lined paper and then testing myself by writing them on the other side to be especially useful. I also found her distinction between exam essays and non-exam essays to be very useful; I will try to hand-hold my reader more in exam essays and I will think about writing more clearly and using more obvious examples sometimes instead of wasting too much time writing about niche ideas that may not work in exam conditions! I will try to do more essay plans to combine content learning and exam preparation. My sessions with Cora are always super useful, and she offers fantastic advice and help. I would recommend her to anyone preparing for their exams as she is very, very knowledgeable when it comes to exam techniques! She is honestly such a fantastic tutor that you will not regret having lessons with her, even if you are not revising for history of art! My sessions with her have been invaluable!
Sofia

-
History of Art
Cora is really amazing! She has offered me superb advice regarding revision techniques and she has helped me with revision planning + execution across all my four a-levels! The skills she taught me are transferrable and I hope that they will make me a better student! I will follow her advice of looking at assessment objectives, mark schemes and examiner reports, as well as writing essay plans before checking notes and then double-checking what I remember and don't remember! She knows so much about how to prepare for exams in a smart and efficient way, and I really hope that I will manage to get the best grades possible and make her proud!
Sofia

-
History of Art
Cora has offered excellent advice, particularly on structuring chapters in a dissertation.
Suzanne

-
History of Art
Cora was very helpful and informative. She has given me excellent suggestions and advice in many areas of my dissertation, including research, planning and timing.
Suzanne

-
History of Art
Cora is very interactive and thorough and is excellent at understanding the structure for our forward plan. Very happy indeed:)!
Shelley

-
History of Art
Testimonials
"Cora is, very simply, a superb tutor. Knowledgeable, organised and helpful she has a real gift for bringing out the best in her pupils. If your enthusiasm for Art History was waning she'll help you rediscover it in double quick time. Highly recommended." - Nick B "Corinne has been fantastic help in boosting my confidence with structuring my thoughts and arguments to enhance my written work. Her teaching is engaging and has been of instant help! She has also provided some great further reading around topics of my interest. Thank you!" - Emilia S "Great! Corinne is a lovely, enthusiastic tutor." - Ming J "Cora has been a fantastic help to Tabitha. Her knowledge of History of Art, enthusiasm and ability to build Tabitha's confidence has been great" - Eleanor M "Cora has been amazing at helping Rosie with all aspects of this subject: revision technique, essay planning, extended reading and context. Highly recommended." - Arabella M "I had a retake on a university essay but could not understand what was wrong with the content and style of it. In just few lessons with the tuition of Cora, I was able to improve the content, style, and structure of my essay which resulted in me passing with a High 2:1." - Toni M "Cora is extremly helpful! Our lesson's are well structured and she is great at explaining concepts and work's of art that I had struggled with before! She's very encouraging and enthusiastic. Studying with her makes me love History of Art and feel so much more confident in my ability!" - Ysabel C "Cora really helped me with my essays at degree level which resulted in me improving my essay structure as well as the language used. The sessions were well structured also. Would definitely recommend her tutoring to anyone!" - Laurine H