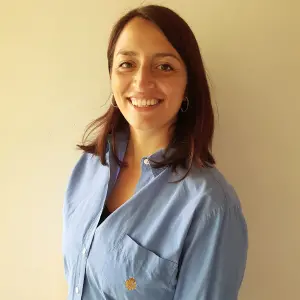 Online Language A: Literature and Language Tutor Amy
Amy 5.0

457 classes
University of Leeds - Bachelor of Arts - English Language and Literature - BA (Hons) 2:1
Fully qualified secondary teacher, specialising in IB DP English and IB Theory of Knowledge, as well as MYP English, MYP Drama and GCSE/IGCSE English, and with a Masters degree in Psychology. Let me support your learning!

Please note: I am available for classes on Mondays, Tuesdays and Thursdays from 9am until 5pm (France time).
Recent Students:

10

Total Hours:

482

Last Online:

21 Mar 2023

All-time Students:

63

Total Classes:

457

Signed Up:

22 Jun 2020
About Me
I love working with young people and helping them to embrace their curiosity and passion for learning. The most satisfying times I've had as a teacher have been when my students have had those "Eureka!" moments and they are able to take pride in how far they have come.

I currently live in Toulouse, France, where I am learning too - trying to master the French language!
Tutor Experience
I am a fully qualified teacher and I have been teaching in both state and international schools for 10 years, in London, Tanzania, and Singapore. My subject specialism is IB DP English A, but I also have experience teaching IB DP English B and IB DP Theory of Knowledge, as well as supervising Extended Essays. I have also taught MYP English A, MYP Drama and GCSE/IGCSE English. I also have one years' experience of full-time tutoring with Spires.

I believe strongly in student-led learning and I will tailor my classes to suit your needs. If you like to learn in a different way, just let me know! Above all, learning should be fun. Once you find what you are studying interesting, your grades will improve. It's a fact.

Please be aware that I have a 24-hour cancellation policy. If you cancel the class with less than 24 hours' notice, I will claim 50% of the charge. If you miss the class with no prior notice, I will claim 100% of the charge. This policy is supported by Spires and I have put it in place so that I can offer the best possible service.

Topic Expertise
I have taught the IB for seven years:
- IB DP English A: Language and Literature
- IB DP English A: Literature
- IB DP English B
- IB DP Theory of Knowledge
- IB MYP English A
- IB MYP Drama
- Supervisor for Extended Essays and Personal Projects

I have also taught GCSE and IGCSE English and Drama, as well as A-Level English and Drama.
Client Reviews
very helpful
Caroline

-
English
She was very helpful and I think this helped me get an A!
Rebecca

-
Extended Essay
Amy is very patient and supportive and knows how to motivate students.
Sara

-
Language A: Literature and Language
Marking was thorough and feedback was detailed - very helpful.
Corina

-
Extended Essay
After working with Amy for about 10 months, I can genuinely say that she has been an absolute blessing to me as a teacher, supporter and a person who has restored my confidence in my ability to contribute something special in my writing and class discussions. She has given me valuable advice about how to manage my time in an exam setting and finish strong. What she has taught me about structuring an argument, connecting everything back to the thesis, developing complex ideas and presenting it in an understandble and cohesive manner is invaluable and I will continue to implement those techniques in the future. I consider myself very lucky to have gotten the chance to be taught by her. Her energy, positivity and enthusiasm for literature are infectious and I never thought I would be the person who looks forward to studying English especially after a bad day at school, but trust me when I say, after a class with Amy, I always feel rejuvenated and ready to tackle the rest of my day. Thank you Amy for all the ways in which you have made me a better learner!
Talya

-
English
Amy is extremely helpful with IB English HL exam revision and all of our lessons are efficient.
Denise

-
English
Amy is very helpful with exam revision and practising exam technique. She is also extremely helpful with writing the HL English Essay.
Denise

-
English
Amy has been an absolute lifesaver and I will be forever thankful that you answered my request for tutoring during these COVID times.  Thank you so much!!  With English as my second language, Amy was exceptional to talk to, dedicated to her craft and I highly valued her direction and critique in helping me prepare for my English IB exams.
Noah

-
Langauage A: Literature
Amy gave encouraging, honest and very detailed feedback which was incredibly helpful. I would recommend offline classes with Amy as much as her online classes. You will not regret it!
Talya

-
English
Very good and thorough lesson. Enjoyed it alot :)
Juliet

-
English
Testimonials
Dear Sirs, AMY ARORA I had the privilege of working with Amy Arora from August 2015 – July 31st, 2017. Throughout this period, I was Director of the International School Moshi, Tanzania and Amy was a teacher of English and Drama at our Arusha Campus. I was not Amy's direct line-manager but visited Arusha Campus two days each week and very much enjoyed my work with her. I hired her because she stood out from the crowd and I am sure that this continues to be the case. She is knowledgeable, patient and hard- working, and someone who sets high standards for both herself and her students. She is a dedicated professional who worked tirelessly to maximise the potential of each and every student. She proved to be an excellent teacher and I would hire her again if I were ever in the fortunate position to do so. In her role as Head of Drama, the performances which she led were always energetic, carefully prepared, and full of interest and excitement. I feel that Amy demonstrates many special qualities in terms of being a professional educator. She is warm, caring, intelligent and hard-working but, above all, connects with students with ease and constantly shows that she has their best interests at heart. In my view, it is rare to see a teacher who considers each student as an individual and is prepared to go the 'extra mile' for each and every one of them. Nothing ever seemed to be too tough, or demanding for Amy and she always approached everything positively and with a smile on her face! Living and working in Tanzania brings many challenges in its wake, but Amy embraced these enthusiastically and constantly showed the ability to be flexibe and open- minded. As you can see, I hold Amy Arora in high regard, both personally and professionally and am confident that she would prove to be a real asset to any school. I strongly recommend her to you. If you require any further information, please do not hesitate to contact me at [email protected] Yours faithfully, Dr. Robert Horton, EdD, M.A., Cert.Ed Education Director Yew Chung Education Foundation Hong Kong