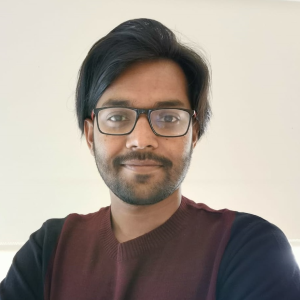 Online Computer Science Tutor
Sutirtha
Maynooth University - Computer Science - PhD in Computer Science
5.0
Helping you discover, Learn and Succeed.
Understanding Coding and logic is all about understanding how our brain thinks. All computer science concepts are based on real-life examples. He loves to teach in such a way that students can derive concepts from easy examples.
Experienced in teaching Computer Science to school and university students. Coding and teaching is my passion. Love to learn new things. Currently researching on human-robot synchronization for musical performance. Comfortable with Java, Python, and Machine learning. Also, with theoretical computer science subjects for schools and universities. Understanding student's need and fulfilling them is my ultimate happiness.
Recent Students:

8

Total Hours:

30

Last Online:

10 Apr 2021

All-time Students:

11

Total Classes:

29

Signed Up:

20 Oct 2020
Client Reviews
Premleen - Computer Science
Good class, I learned a lot.
Premleen - Computer Science
The class was good. Good pace and covered a lot.
Abi - Computer Science
Good and informative help on JTables. Errors were debugged. System functionality improved
Abi - Computer Science
This lesson was alright. No technical Issues
Milkessa - Computer Science
He is friendly, helpful, and smart tutor.
Milkessa - Computer Science
He is an extraordinary, smart, and friendly tutor.
Lottie - Computer Science
Very patient and really helped me break down the processes that I was having difficulty with in order to solve them effectively!
Adi - Computer Science
Fantastic
Adi - Computer Science
Very clear and patient