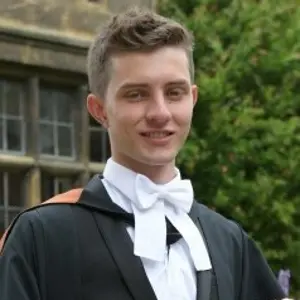 Online Further Mathematics Tutor
Joseph 0.0

6 classes
Cambridge University - Information and Computer Engineering - Masters Degree
Experienced Cambridge Engineering PhD candidate, with a first-class masters degree. I have over 100 hours of experience and enjoy passing on my excitement for Maths and Physics to my students. I have experience preparing many students for University entrance exams.
Recent Students:

0

Total Hours:

8

Last Online:

25 Jun 2022

All-time Students:

2

Total Classes:

6

Signed Up:

07 Jul 2021
About Me
My main interest is in applying machine learning techniques to real-world problems, and I am completing a PhD applying these methods to active noise cancellation with Bose. My undergraduate degree began with two years in general engineering, before I specialised in information engineering for the final two years. Outside of academia, I am a keen distance runner, and have been awarded a Cambridge Blue in both cross-country and athletics. Moreover, I was elected as Club Captain of the University running club, which required me to be both professional and personable.
Tutor Experience
I am able to tutor A Level Maths, Further Maths, and Physics, as well as undergraduate engineering. Having studied general engineering at Cambridge, I am able to tutor the first two years of a wide range of engineering degrees, and also the ENGAA and PAT.

I have over 100 hours of tutoring experience, and have taught over 25 students, including seven students who were preparing specifically for the Cambridge ENGAA.

I have also tutored several groups of 3rd year Control and Systems engineering students at Cambridge.

Before my lessons, I prepare a set of questions to work through with the student. The first few questions are basic, and then they increase in difficulty. This allows me to find the right level of difficulty for each student, and push them to the right level. The lessons are therefore both challenging and rewarding for the student, as it gives them the satisfaction of solving problems they find difficult. After the lesson, I provide a similar problem set for the student as homework, which aims to develop both their speed and understanding. I also endeavor to design interesting and fun problems, which is vital for engaging the students interest and developing their passion for the subject.
Topic Expertise
Maths, Further Maths, Physics, undergraduate engineering, Oxford PAT, Cambridge ENGAA