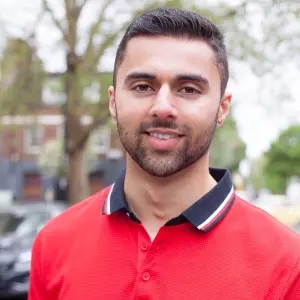 Online Economics Tutor
Adam 5.0

461 classes
University of Oxford - Economics and Managment - 2:1
Get the grades you want with an experienced and caring tutor!

I am Oxford graduate with deep knowledge in Maths and Economics

Having successfully passed the Oxford admissions process, I also provide support for students looking to enter Oxford or Cambridge University

Don't hesitate, book a free introductory meeting today and accelerate your learning!
Recent Students:

7

Total Hours:

466

Last Online:

25 Sep 2021

All-time Students:

76

Total Classes:

461

Signed Up:

28 Jul 2019
About Me
If you're reading this, you are looking for an experienced, trust-worthy and talented tutor for you or your child

You are not getting enough support from your school and want to use an online tutor to accelerate your progress and secure the best grades possible

I firmly believe that I can help you, given my strong academic background and deep experience as a tutor

Having achieved an Oxford degree, I know what it takes to achieve academic excellence. Furthermore, I currently work in a high-level consulting firm, and I approach being a tutor with an equal degree of professionalism

My tutee's can expect a full introductory session where we will map out exactly what they want to achieve and in what time frame. We will then backwards-engineer the required steps to realise said vision

All lessons will be planned ahead of time with homework and continual feedback. I am available to respond to any questions you have within 24 hours

And don't take my word for it, look at the reviews left by previous happy clients!

Tutor Experience
I have considerable experience tutoring before for both in-person and online

Over the years , I have spent hundreds of hours teaching ambitious people just like you, who are not getting the support they need in school to achieve their goals

Consequently, I appreciate that every student learns at their own pace and their own style. Some learn best visually, others through analogy

That's why I take the time to speak with you and learn your specific goals, challenges and learning styles

I then tailor my lessons to maximise your progress and help secure the grades you want!

Topic Expertise
I have deep experience in the following areas:

-Economics tutoring at GCSE, A-level and undergraduate level

-Maths tutoring at primary, secondary, GCSE and A-level

-+11 and +13 exam preparation

-UCAS personal statement support

-Oxbridge entry support including personal statement review, TSA preparation and interview preparation

- I have experience applying and working in the finance and consulting industries so can give advice for students considering a similar career path
Client Reviews
as always very helpful!
wenjing amber

-
Mathematics
my son tells me it was good , vdery useful . thankyou
Mark

-
Economics
Adam's explanations were clear and concise and very knowledgeable on a broad range of Economics topics. Thanks very much for your help!
Aditi

-
Economics
Adam explained all the key concepts in a clear and concise manner and was very helpful when I needed further clarification on certain points!
Harry

-
Economics
very efficient and effective as always!
wenjing amber

-
Mathematics
I had not the time to fix everything but thank you for showing me that I was writing in a completely different direction from was expected from me. I will probably resubmit my assignment later on.
Radka

-
Economics
Really efficient learning straight to the point and no time wasted waffling and rambling
William

-
Economics
Excellent
Tricia

-
Economics
Good
Tricia

-
Economics
Thank you extremely helpful TSA study session
Juliette

-
TSA
Testimonials
2020 Oxbridge Candidate: Adam, thanks so much for all your TSA Oxford exam tutoring. Your advice and tips and the practice sessions all really helped me get a high score, and you were really thorough and precise with your methods for approaching the exam.. I just received an Oxford offer! Thank you
Parent of GCSE Maths Student: Adam is an excellent expert in teaching maths, he makes maths a fun and interesting subject. My daughter has been learning with Adam for GCSE curriculum for almost a year now, with regular lesson plans, we've been extremely happy with his teaching and effective working style, as he is always on time for lessons, provides appropriate homework, and gives timely feedback. My daughter's maths skill and especially confidence in maths has gone up, her math level in school has also been upgraded which makes all of her other subjects easier to handle, with Adam's help, she now enjoys learning maths, as much as how she enjoys music.