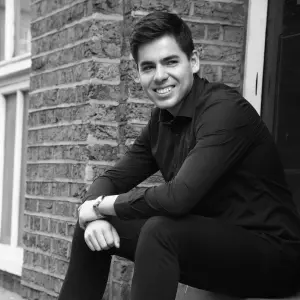 Online Mathematics Tutor
Daniel 5.0

51 classes
Coventry University - Electrical Automotive Engineering - MSc
A passionate and engaging maths tutor aiming for success!
Recent Students:

1

Total Hours:

48

Last Online:

24 Oct 2021

All-time Students:

4

Total Classes:

51

Signed Up:

02 Feb 2021
About Me
Hi!

I'm Daniel. I have recently been awarded a Master of Science with Distinction in Electrical Automotive Engineering. Previous to this, I graduated from my bachelor's degree in Mathematics with Finance and Economics at City, University of London with a 1st class.

Teaching maths is something I truly enjoy. Personally, I get my kicks from using mathematics in real world applications; specifically, automotive engineering. As a result, I have plenty of examples/scenarios to show students that maths really is applicable and useful. From Einstein's theory of relativity to predicting the weather, mathematics is the language describing everything around us. During my undergraduate studies, I had the pleasure of learning some magnificent equations from legendary mathematicians such as Euler, Lagrange, Cauchy and Riemann. These experiences were incredibly inspirational to myself and so why not share them with others?

The most enjoyable times I've had teaching are when students begins to enjoy the material themselves. Great things happen when a good understanding and imagination work together. If mathematics has taught me anything, it is the importance of a thorough understanding. I follow the 'you only know it if you can teach it' principle very firmly which I find leads to greater intellectual creativity and contribution. And often, this is the combination needed to tackle the hardest of questions.

Stay safe.
Daniel
Tutor Experience
Private Tutor
- Over 1000 hours
- Use Notion to track pupil progress by actively filing in topics completed and future pipelines.
- Planned every lesson and identified strategies, weaknesses and strengths
- Mentored and coached students to pass entrance exams, GCSEs and A-Levels

Volunteer Tutor (Action Tutoring)
- Volunteered at local engineering school for 2 months to help disadvantaged maths students achieve their target grades
- Currently volunteering online at present one hour per week.

School experience
- 3 months of secondary classroom experience

Topic Expertise
Mathematics
Levels: KS1, KS2, KS3, KS4, GCSE, AS level, A level
Exam boards: Edexcel, AQA
Client Reviews
He manages the one hour time slot nicely by getting into the problem swiftly and just answering the bit I couldn't get my head around rather than going through the whole question again which I already know which is a waste of time for me. I was looking for a tutor like him since I know the content but just needed a push from the ditch.
Joseph

-
Mathematics
It is going very well and is engaging
Joseph

-
Mathematics
My son has been working with Daniel I can see a definite improvement in his maths he is more confident and understanding things he's had trouble with for a long time I would highly recommend Daniel for tutoring
Michelle

-
Mathematics
Daniel, has been fantastic in helping to get my Son to engage in Maths . Very organised and excellent at keeping me updated on his progress. Would highly recommend Daniel to any parents who are looking for a Maths tutor. Having tried so many am finally able to say we have found the one!
Gurpreet

-
Mathematics
Testimonials
"Daniel has been working with my teenage daughter for almost a year and every week he was punctual, friendly and my daughter enjoyed the lessons, never complaint about Maths on a Sunday evening. Daniel worked at her level plus bringing new challenges for her to be on top of school work and ahead of what was expected at her independent school. We will continue working with Daniel hopefully for years to come." - Beatriz
"Has been teaching my 8 year old on line. Excellent teacher, very engaging and manages to explain concepts to small class extremely effectively taking all students with him together. My son really enjoys the classes." - Nicola
"Daniel is rigorously organised His knowledge base is outstanding and he also has patience and humour to make the lesson interesting" - Julie
"Daniel is a fantastic teacher - full of energy, patience and creativity. He prepares thoroughly and is very clear on the concepts he is teaching. He comes across excellently in a remote classroom and keeps the kids fully engaged for 45min. I highly recommend him." - Joanne
"Daniel is a brilliant mathematician who has an excellent knowledge of the subject. He can explain the material in a way that his pupils can understand. My son enjoyed lessons with Daniel very much." - Natasha
"I have really enjoyed my lessons with Daniel so far. They have helped me not only to build on my knowledge from school but also have helped me understand topics that I might not have understood fully before. The lessons are interactive and are also planned out to accommodate what I need help with at that time" - Alisha
Price: $39/hr
No Upfront Payments
Passed Our Interview
Only Tutors Online
Background Checks
Uploaded
Qualifications
MSc Electrical Automotive Engineering, Coventry University - DISTINCTION
Example modules:
- Thesis - Classifying Symbolic Road Markings using deep Convolutional Neural Networks (77/100), DUE TO BE PUBLISHED
- Automotive Networking and Signal Processing (94/100) - highest out of cohort
- Power Semiconductor Devices and Converters (97/100) - highest out of cohort


BSc Mathematics with Finance and Economics, City, University of London - 1ST CLASS
Example modules:
- Vector Calculus (100/100)
- Groups and Symmetry (90.6/100)


Awards and scholarships:
- Ranked 1st in MSc Electrical Automotive Engineering
- PostGraduate Taught Academic Excellence Scholarship from Coventry University, 2020
- City, University of London Scholarship Programme, 2016-2019
- Professional Consulting (Level 7 award) - Chartered Management Institute (CMI)
- Strategic Management and Leadership (Level 7 Certificate) - CMI
Availability
| | Weekdays | Weekends |
| --- | --- | --- |
| Morning | | |
| Afternoon | | |
| Evening | | |