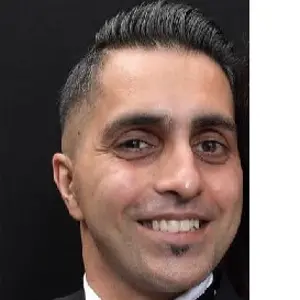 Online Dentistry Tutor
Amardeep 5.0

20 classes
University of Birmingham - BDS Dentistry - MSc Endodontics - King's Collage London
King's Collage London lecturer, clinical teacher and examiner in Dentistry. Celebrate the power of knowledge with me to unlock your true potential.
Recent Students:

0

Total Hours:

24

Last Online:

01 Apr 2022

All-time Students:

2

Total Classes:

20

Signed Up:

24 May 2021
About Me
As a successful clinician, educator and school governor. I am in a unique position, to understand the complex spectrum of skills and knowledge required in dentistry and education. I have found dentistry motivates a desire to better oneself and therefore inspires growth of the profession and the individual. It stimulates the need to gain knowledge and skills, to provide greater options to patients and improve our own skills base. I am extremely passionate about the speciality of Endodontics, Periodontology, Restorative dentistry, Orthodontics and Radiology. I additionally have a keen interest in digital delivery methods in clinical dentistry and education, which has been achieved through postgraduate education and working with highly respected and innovative professionals. This has furthered my scope into wider areas of my profession and has provided a platform to excel. It is with these thoughts and experiences that I eagerly await to support you in your learning journey.

I enjoy being with and working with people. This has been achieved by becoming actively involved in voluntary work, travelling and residing in various destinations around the world providing opportunities to experience different cultures, traditions and beliefs.


Tutor Experience
For the past 5 years I have been a clinical teacher, lecturer and examiner at King's College London in the Faculty of Dentistry, Oral and Craniofacial Sciences. I regularly embark on learning journeys with highly academic individuals, on the path to becoming competent professionals who deliver high quality patient care. This transformational change involves multiple layers of learning, whereby students develop sound theoretical knowledge, the confidence to independently perform technical/clinical procedures, the ability to identify, assimilate and apply complex information drawn from multiple sources, the adaptability to work within or lead a team and the development of professionalism.

Due to the academic knowledge, practical, clinical and professional skills expected of my students by the GDC, it would be impossible to simply deploy one pedagogic approach to teaching and learning. A major part of my approach to teaching would be considered as social constructivism. I believe as Lev Vygotsky stated that 'learning is a collaborative process between student and teacher'. I also adopt Liberation pedagogy which I believe promotes development of specific skills relevant to dentistry and reflective practice which is at the core of GDC's registration process.

I have additionally tutored and examined dental care professionals for their national nursing and/or radiology qualifications and teaching CAD/CAM using E4D and Serona to dental professionals in Australia.

I am a keen advocate of mental health awareness amongst my students and as a personal tutor for the past 5 years, I regularly advocate balancing health and wellbeing practices; as professional growth can be hindered without looking after our mental health.

The greatest recognition of my teaching has involved receiving multiple nominations from students for the Educational Excellence award at Kings Collage London 2021.
Topic Expertise
Dentistry - All specialities for Undergraduates
Endodontics - Postgraduates and Undergraduates
Maxillofacial and Dental Radiology - Postgraduates and Undergraduates

UCAT entrance assessments
Personal statements, Interview preparation for dental school, VT posts, professional posts.

Academic skills
Academic Writing, Communication, Dissertations, Elective reports, Essay, Quantitative and Qualitative Research Methods and writing research papers.