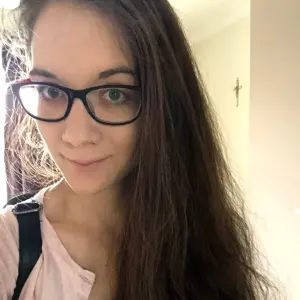 Online Latin Tutor
Roxana 5.0

23 classes
University College London - Classics - MA Classics
I am currently an enthusiastic PhD student in Classics at the University of Manchester.

Recent Students:

1

Total Hours:

26

Last Online:

26 Oct 2021

All-time Students:

3

Total Classes:

23

Signed Up:

08 Apr 2021
About Me
I am currently an enthusiastic PhD student in Classics at the University of Manchester. I have completed my Masters degree in Classics with Distinction at UCL (University College London), from where I also received my Bachelors degree with First Class Honours in 2015.

During my PhD and Masters I have been working with Greek papyri extensively. I have completed numerous linguistic modules (Greek Texts, Latin Texts, History of the Latin Language, Greek Papyrology, Greek Translation, Latin Translation, Latin Palaeography, History of Greek and Dialects of the Greek Literature). This knowledge enables me to teach Ancient Greek and Latin languages at all levels. As both my PhD and Masters focused on papyrology, I have great experience in some specific disciplines of classical studies, such as papyrology and palaeography. Besides the study of ancient languages I also enjoy studying and teaching Ancient History, Greek Tragedy, Greek Myth and Roman Comedy.

I always aim to organise the lessons according to the needs and level of each pupil, as no two pupils are the same. Each tutorial focuses on learning needs and aims of the individuals with structured lesson plans. Grammar and vocabulary are essential parts of learning Latin and Ancient Greek - I pay very great attention to these skills and aim to improve them in an interactive, productive and interesting way. I use various materials to make the lessons interesting and very educational at the same time. I always discuss the goals and expectation of each student, as well as giving feedback about the progress they have made.
Tutor Experience
University of Manchester January 2020 –
Teaching Assistant at the School of Arts, Languages and Cultures in the Faculty of Humanities
- teaching one-hour seminars twice a week to first year undergraduate students at the university
- experience in online and face to face teaching
- creating lesson plans
- marking assignments

Iris Project Chestnuts Primary School 2014-2015
Volunteer Latin teacher
I was teaching Latin at Chestnuts primary school to two year 5 classes weekly. The aim of the classes was to bring Latin, ancient culture and myth closer to children, and awaken the kids' interest for languages (especially Latin).
Topic Expertise
Latin, Ancient Greek, Classical Civilisation and Classics from beginners to university level
Client Reviews
Great class for both Latin and Greek
Nico

-
Classical Civilisation
Making progress slowly but surely. Roxana is a great tutor and very patient.
Emily

-
Ancient Greek
Learning lots, hard class but still making some progress.
Emily

-
Ancient Greek