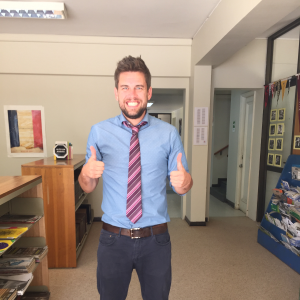 Online Humanities Tutor
Josh
University of Aberdeen - Education - PGDE
5.0
International teacher of English, Business, Philosophy & Humanities, with experience teaching in British international schools in Europe, Asia, Africa and South America. I am fully student-focused, with a history of success developing engaging and relevant classes to help students overcome their academic and study challenges. I believe in the values of patience and kindness in supportive academic relationships in order to develop student confidence and determination.
Recent Students:

23

Total Hours:

123

Last Online:

30 Jul 2021

All-time Students:

35

Total Classes:

117

Signed Up:

21 Jan 2021
Client Reviews
Samantha - Theory of Knowledge
Sometimes words cannot express fully my gratitude towards Josh' guidance. It is very clear that he has the wealth of experience in coaching his tutees. He is incisive in his comments, thorough taking my son through the content, structure of his TOK essay. More importantly, Josh is very patient and encouraging. That helps a lot in building confidence in my son who is weak in TOK and not particularly fond of this subject. Yet he enjoyed Josh' classes very much. With Josh's guidance and support, the end result was a huge improvement, further building my son's self-confidence. Must say Josh definitely has a spirit that draws out the best in his students. With deepfelt thanks, Samantha.
Zhanar - Language A: Literature
very helpful
Trisha - Business Management
Mr. Josh is always very friendly and supportive during lessons. He also helps to pinpoint causes for any mistakes so we can make sure to fix them!
Ekaterina - English Language
great lesson!
Trisha - Business Management
Mr. Josh was very kind and funny and helped me complete my business homework.
Samantha - Theory of Knowledge
Great class, was really useful in identifying where to improve even though not everything was covered in 1 session.
Ranbeer - English
My daughter found that Josh was very clear and gave her the support she needs in English. This is only our second lesson with Josh but already we can see he cares a lot that she does best that she can and go beyond! She's looking forward to her next session with Josh.
Hilde - Theory of Knowledge
My daughter has had a few lessons with Josh for her TOK and he has been very helpful, responded very quickly and I believe my daughter has learned some skills. Thank you for helping so quickly. Much appreciated. We will return for more lessons for the TOK Essay.
Ranbeer - English
My daughter found her English lesson very enjoyable.Josh was very professional indeed.
Ekaterina - English Language
wonderful class! very informative:)