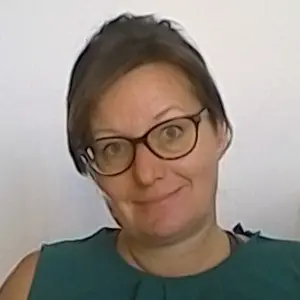 Online Tutor
Dora 5.0

278 classes
Corvinus - M.Sc in Economics, PGCE in Mathematics (UK) - Teacher of Mathematics (Ages 11-18 years)
I am a Mathematics teacher and tutor with over 15 years of experience and proven track record of results.

Since September 2020 I am a Teacher at Pamoja Education, teaching Analysis and Approaches Higher Level.

For the past 10 years I have been teaching IB Mathematics, all three Diploma courses and also the Middle Years Program.

I have been the Secondary Mathematics Curriculum Leader in my most recent placement and I am also an IB Diploma Examiner and Internal Assessment External Moderator.

Before my above experience I have taught in the UK for 6 years in a prestigious and high achieving private Secondary School in Berkshire, UK. (GCSE and A-level courses).

Recent Students:

0

Total Hours:

271

Last Online:

07 Aug 2022

All-time Students:

21

Total Classes:

278

Signed Up:

24 Sep 2019
About Me
Originally from Hungary, graduated in Economics in the Corvinus University of Economic Sciences in Budapest. Having always been passionate about teaching and in particular the subject of Mathematics, I have completed my Graduate Teacher Training Program in England.
Since 2010 I live in Italy where until 2017 I have worked at the International School of Milan.
Since the birth of my son in 2017 I work as a freelance tutor and IB Examiner.

I am very passionate about promoting education in the developing world. I have been the school's ambassador to Zambia. As part of the job, I spent a couple of weeks in our partner school, conducting observations, meetings and workshops with the teachers, students and parents. On my return to Italy I organised a number of fundraising projects.
I am still supervising various projects in education in Zambia, scholarship projects between a Swiss Foundation and College students in Zambia, set up further school partnerships between Italian and Zambian schools.

In my free time I enjoy swimming, cycling or trecking in the mountains.

Tutor Experience
I have got over 800 hours of tutoring experience, teaching mostly the IB Diploma and also the MYP Curriculum, also online. I also got experience in preparing students for SATs and University Mathematics Exams. (Maths for Business, Economics and Finance)

I am comfortable with using new technology to facilitate learning. (Graphics Calculators: TI Nspire, TI-84, Autograph, Skype, Zoom, Microsoft Sharepoint, Bitpaper.)

In my most recent job, apart from the scheduled lessons, I have supported my students in one to one support sessions and I am very proud that many of them achieved 6 or 7 in their Mathematics Higher and Standard Level exams and got admitted to prestigious universities. (Oxford, Imperial, Kings College, QMC, LSE)

My many years of teaching experience enables me to assess student knowledge and learning style quickly and address it with appropriate methods.

Topic Expertise
Teacher at Pamoja Education (AAHL) since 2020

IB Diploma Examiner AASL Examinations and Internal Assessment (3 years)

IB Diploma and MYP Mathematics (12 years)-
International School of Milan

UK Secondary Mathematics (6 years)
St Mary's School, Ascot;
Salesian School, Surrey

Curriculum Leader of Mathematics at the International School of Milan

Pamoja teacher training

Various IB workshops attended (Mathematics Higher Level and Standard Level)

Client Reviews
I was really struggling with using row reduction to find solutions of systems of equations, and this lesson pretty much completely cleared up all the confusion I had. I now feel much more confident with this topic, and Dora's ability to completely ignore all of the questions I had asked her to prepare for the lesson and instead very quickly find new questions to practice this topic was very much appreciated.
Brian

-
Mathematics: Analysis and Approaches
Helpful recap on functions
Rosemary

-
Mathematics: Applications and Interpretations
Ms. Dora went through questions, built on covered sections, and answered any questions I had or was unsure about.
Kenji

-
Mathematics
We started by reviewing the key integration rules and went through many practice questions to solidify it.
Kenji

-
Mathematics
When working on BitPaper, the screen recording is not fluid. The quality of the image was not the best. Maybe next time the BitPaper can be shared with me so that I can see it through my laptop rather than through tutor's screen recording.
Carlota

-
Mathematics: Analysis and Approaches
Testimonials
Dora is a good and patient teacher. The concepts are well explained. (Helene)
"Thank you for having been a great teacher: not only did you prepare us wonderfully well for the exams, but you also transmitted yous enthusiasm for Maths to us, to the point that I will miss doing Maths exercises! (...) I already miss your lessons!" (Sara, a Higher Level Maths student, achieved 7 on the exam and since graduated from Oxford)
"Hi Dora, how are you? We were happy to learn that Nicolas is in the set number 1 from this year..." (Mother of my MYP Student struggling in set 2 last year, moved up a set after the end of year exams)
"Hi, I have successfully passed the exam. Thank you very much for everything. This year if I have trouble with Maths I will contact you. Once again, thank you very much!" (Alex, Studying Business and Economics, after his MBEF Exam)