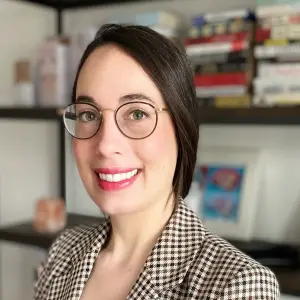 Online Research Methods Tutor
Dr. Elena Serena 5.0

201 classes
Birkbeck - University of London - Developmental Cognitive Neuroscience - PhD
I am a Research Scientist with a PhD in Developmental Cognitive Neuroscience, Associate Lecturer at Birkbeck, University of London and Associate Fellow of the Higher Education Academy.

I have more than 6 years of experience teaching and tutoring undergraduate and postgraduate students with diverse educational backgrounds. I am currently in charge of teaching undergraduate and postgraduate students the following academic modules:

1) Introduction to Research Methods (Undergraduate);

2) Advanced Research Methods (Postgraduate);

3) Statistics (Undergraduate & Postgraduate);

4) Data analysis packages – SPSS, Jamovi, JASP, MATLAB (Undergraduate & Postgraduate);

5) EEG, ERP data analysis toolboxes – EEGLAB, Netstation (Undergraduate & Postgraduate);

6) Psychology (Undergraduate & Postgraduate);

7) Developmental Cognitive Neuroscience (Undergraduate & Postgraduate)

Given my academic position, I have a strong experience preparing and presenting talks to academic audiences.

See my full CV here: www.linkedin.com/in/elena-serena-piccardi-6b670a100

See my ORCID Research profile here: https://orcid.org/0000-0001-5071-347X
Recent Students:

6

Total Hours:

278

Last Online:

23 Jun 2022

All-time Students:

48

Total Classes:

201

Signed Up:

29 Jan 2018
About Me
My approach to private tuition strives to create a culture of learning based around curiosity and collaboration, where diversity in perspectives and opinions is encouraged and where variety in views and beliefs is welcomed. I consider this approach essential to promote creativity, adaptability, agility, and resilience.
Tutor Experience
PhD in Developmental Cognitive Neuroscience (Centre for Brain & Cognitive Development, Birkbeck, University of London, United Kingdom) – 2016/2020.

Postgraduate Certificate in Teaching and Supporting Learning in Higher Education, Higher Education Academy (HEA) – 2019.

Master of Science in Cognitive Neuroscience & Clinical Neuropsychology (University of Padova, Italy) – 2013/2015 – Distinction

Bachelor of Science in Clinical Psychology (University of Bergamo, Italy) – 2010/2013 – Distinction

In recognition of my academic interests and experience, I am:

1) Associate Fellow of the Higher Education Academy
2) Member of the International Society for Autism Research
3) Member of the Cognitive Science Society
4) Academic reviewer for the international journal "Autism Research"
5) Most reviewed tutor within the platform "Tavistock Tutors" (2020)

Topic Expertise
Research Methods (Undergraduate)

Advanced Research Methods (Postgraduate)

Statistics (Undergraduate and Postgraduate)

SPSS, JASP, JAMOVI, MATLAB (Undergraduate and Postgraduate)

EEG, ERP data analysis toolboxes – EEGLAB, Netstation (Postgraduate)

Psychology (Undergraduate and Postgraduate)

Developmental Cognitive Neuroscience (Undergraduate and Postgraduate)

Italian language (All levels)

Personal statement & CV assistance (for Academic positions)
Client Reviews
Excellent tuition - I would highly recommend Dr. Elena.
Rachel

-
Psychology
Clearly explained the issue she found in my data and helped me to address it.
Rachel

-
Psychology
Excellent class. Elena is very knowledgeable about spss. Great help
Aishling

-
Academic Writing
Elena is an amazing tutor! She's helped further my understanding on the entire module!
Dumaa

-
Psychology
Another amazing session with Dr Elena - THANK YOU for such quality learnings
lisa

-
Psychology
Dr. Elena is the best tutor. She is someone you can count on and her support and guidance is 1st class.
lisa

-
Psychology
I have really enjoyed working with Elena.
Nicky

-
SPSS
Another very well structured and supportive lesson.
Nicky

-
SPSS
Elena is a fantastic tutor who has endlessly helped me transform my dissertation. Taking me slowly through each section of my report ensuring i understand the background principles before moving on. Elena has helped me ensure my dissertation is not only a good read but has correct psychological points that stand strong in the report. I would have been lost without Elena's help over these last few months and i cant recommend Elena as a tutor enough. Thank you Elena me and my dissertation are very grateful for your time.
sarah

-
Psychology
A pleasure to work with Elena! Great teacher, very patient and friendly.
Vassilissa

-
Psychology
Testimonials
Elena was immensely helpful in my preparations for the DClinPsy interview. I could not have done it without her. Thank you so much, Monika
Aida - Tavistock Tutors Elena was lovely to work with. She's engaging and explains concepts clearly using contextual examples. She's friendly and approachable. I didn't think l could do 2 hours straight of statistics but time flew by! I would say yes, l found her inspiring.
Eyup - Tavistock Tutors At the beginning of university terms, I was struggling with a few assignments (statistics and research methods specifically). I had contacted many tutoring companies but none of them were able to meet my requirements i.e. some of them were just looking to get their money, some had conditions of how many sessions you could book and some didn't have the necessary qualifications that were suited for my needs. I had then found Tavistock tutors, they put me through with one of their best statistical tutors they had. I got an email straight away from Elena and we started working on the assignment and in a few sessions, the assignment was all up to date and I was ready to submit it with great confidence. Tavistock tutors is an amazing company that is worth the investment, they provide you with top-class tutors, continuous support outside your lessons as well as being able to match you up with the correct tutor. whenever I need a tutor, all I do is message them on WhatsApp with my requirements and in a day or two, they've found me a perfect tutor. So far I've had great success with tutors in the fields of statistics and research methods as well as medical-related. Really happy with the services I've been given, don't be put off by the membership price, it's worth it ;).
Adrina - Tavistock Tutors Elena is an outstanding tutor who I look forward to Skyping with. She is thorough, professional, and extremely knowledgeable. She has given me a great deal of confidence and inspires me to continue learning!
Olivia - Tavistock Tutors I had a fantastic experience with my tutor Elena and Tavistock Tutors. They were very well organized and made the entire experience so seamless and easy for me. I passed my assignment with great marks and the experience was much less stressful than if I had tried to complete the assignment without Elena's help!