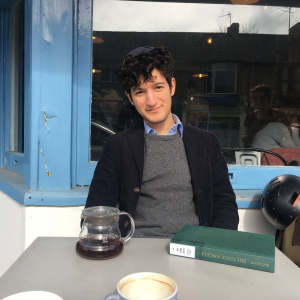 Online Dissertations Tutor
Toby
University of Cambridge - Human, Social & Political Science - Starred First Class
5.0
I'm an academic with several years of teaching and admissions experience, who has worked with the University of Cambridge and other international research institutes.

Having graduated from Cambridge with a Starred First, I also provide support to students studying at Oxbridge or looking to get in.

I want to do the very best to help you get the results you want, and to succeed in the way that you want to succeed.
Recent Students:

8

Total Hours:

103

Last Online:

09 Apr 2021

All-time Students:

21

Total Classes:

92

Signed Up:

01 Oct 2020
Client Reviews
kimela - Academic Writing
Wonderful, So helpful!
Hazi - Essay
Best
Hazi - Essay
Greatest!!! Mostly recommend!!!
Evelyn - Oxbridge Entrance
Toby is super helpful and cares about his students
Evelyn - Oxbridge Entrance
As always, Toby is super helpful and supportive!
sophie - Politics
Very informative and helpful! He highlighted by strengths and weaknesses and personalised my tutoring according to that. Would recommend! :)
Alex - TSA
the conclusion to my classes before my test tomorrow- there isn't much for me to say apart from the fact that I can sleep tonight with a confidence that I simply would not have had I not done sessions with Toby.
Sarah - TSA
Really helpful session, especially the day before my exam! Thank you for being a great tutor!
Shengchang - TSA
Really a supportive tutor. Toby gives me confidence!!
Alex - TSA
Again, noticeable and tangible imporovements in confidence and ability thanks to Toby, which is exactly what is needed four days before the TSA itself. Very very glad to have worked with Toby, I feel much more confident than I would have otherwise.
Testimonials
"Toby easily adapts to your personality. He is efficient, devoted and open. Those 3 criteria where essential for me when I was looking for a tutor."
"Compared to others I have encountered, Toby is unique in a way that he is professional but at the same time very encouraging, supportive, and reassuring."
"Thank you Toby. All very helpful, and [--] will be a busy bee this week! Have a wonderful week, and thank you very much for all of your help and insights."
"Thank you very much for your ongoing work with [--]. I can see him improving, which is really super."
"I overheard by chance a few minutes or your sessions with him, and was able to acknowledge how much effort and passion you put in your tutoring. Thank you again for your precious help and your patience."
"I have been meaning to write to you for a long time. First of all, we really appreciate the work you're doing with [--]!"
"Toby is the man to have on your team!"
"Toby's desire and thirst for knowledge and his unending commitment to share it, is utterly infectious."