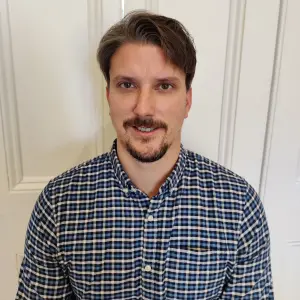 Online History Tutor
Chris 4.9

382 classes
King's College London - PhD in History - Doctorate
I have extensive teaching experience at both university and secondary school level, and hold a doctorate in history from King's College London. I am a patient, dedicated history tutor who will help you achieve the results you desire!
Recent Students:

5

Total Hours:

400

Last Online:

26 Oct 2021

All-time Students:

36

Total Classes:

382

Signed Up:

27 Mar 2018
About Me
Outside of my passion for history, I enjoy playing a number of sports for both fitness and fun including tennis, football and canoeing, and I like to relax after work by socialising with my friends either at a gig, an exhibition or if it's a nice summer's evening a bit of frisbee in the local park. I also enjoy the odd bit of gardening at home, so if you fancy chatting zinnias in-between the heavy history stuff during sessions I'm down with that!
Tutor Experience
I have over 400 hours of history tutoring experience online, and I am particularly well versed on the requirements for the OCR, AQA and Edexcel exam board. My tutoring sessions are tailored towards the specific needs and goals of my students. Whether these are improving grades, keeping on top of homework, preparation for coursework and exams, or simply needing an explanation of specific concepts, I'm here to provide a session that meets your requirements. I will identify both short and long term issues the student may have with their courses, and establish solutions and goals for solving them. I particularly aim to help students improve their writing and exam essay techniques. I use a simple but effective system for this: firstly by using exercises designed to improve understanding and appreciation of the requirements of exam essay questions, followed by introducing skills and techniques for constructing time-efficient essay plans, and finally a rigorous focus on improving writing quality, essay structure, critical analysis and argument development through practice essays with extensive feedback. Using this system I have helped students dramatically improve their exam essay writing techniques and achieve the higher grades they were aiming for.
Topic Expertise
I recently received my PhD in History at King's College London. Whilst I would consider myself a historian of modern British, social and cultural history, during my studies at BA, MA and doctorate level I have also acquired expertise in an array of diverse historical eras and themes. I also taught history undergraduate seminars at KCL on various modules including Early Modern Europe, Modern Britain, and History and Memory. During my years teaching history at KCL, I taught hundreds of students of varying abilities and I really enjoyed helping develop their historical learning and sharing my passion for history whilst nurturing theirs.
Client Reviews
Very good, informative and thorough teaching.
Camilla

-
History
very helpful and informative - thanks!
David

-
History
Very informative and helpful.
David

-
History
Excellent way of delivery of information ++ excellent experience in IGCSE
Waed

-
History
Dr Chris offers first rate tuition. He is engaging, knowledgeable and patient! My son really enjoyed his lessons each week and we saw a remarkable improvement in his History grades. Always positive and encouraging. We cannot recommend him highly enough!
Raphaella

-
Chemistry
Christopher is an excellent history teacher. His teaching of and guidance in GCSE history and especially its exam technique has enormously helped daughter. I would happily recommend him to a GCSE student who is looking for a history tutor.
Vaishnavi

-
History
Very good
Edouard

-
History
very usefull and went very well
Edouard

-
History
Testimonials
Iain (Parent) Chris has been a great asset in helping my son achieve his History A-Level. A crash course in History was an uphill challenge, however, with advice and mentoring from Chris, my son achieved his goal and attained his required grade to ensure University placement. Chris was very helpful, setting "homework" or providing feedback to assignments and both flexible and accommodating with timetables, especially due to our time difference (GMT +8). A very affable individual, Chris and my son easily connected to provide a seamless transition, from a previous tutor, late in the academic year. Thoroughly recommended.
Amna (Student from London) Chris is a great tutor - friendly, helpful and efficient. I needed advice for a personal statement for a masters' course and he was very prompt at responding to my request and gave feedback in a timely way, which I appreciated as my deadline was tight. He is approachable and I think this comes from his time as a former secondary school history teacher. He is also very knowledgeable about his subject. I would recommend Chris to anybody.