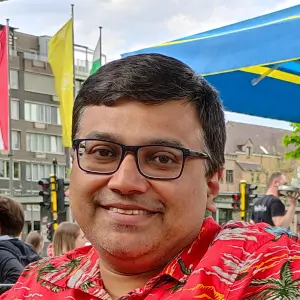 Online Materials Technology Tutor
Awadesh 5.0
Hasselt University - Materials Physics - Postdoctorate
Experienced university faculty of science and engineering with international exposure
Recent Students:

0

Total Hours:

0

Last Online:

21 Aug 2021

All-time Students:

0

Total Classes:

0

Signed Up:

17 May 2021
About Me
Dr. Awadesh Mallik is an engineer cum scientist, working in the field of CVD diamond
materials for the past 16+ years. He has developed processes like hot filament CVD, 915 MHz and
2.45 GHz microwave plasma resonant cavity CVD, linear antenna CVD, tribology & thermal
management by PCD coatings and also fabricated products like diamond discs and foils for MW
transmission windows, supporting rods for helix TWTs etc. He has also developed laser cutting and
polishing technologies for the as-grown diamond material over large areas with industrial
collaboration. Other than working with microwave plasma CVD, he has experiences with industrial
cathodic arc PVD of hard nitride coatings, plasma enhanced CVD of diamond like- coatings,
MOCVD of alumina coatings etc.

In addition to research and development activities, he taught and supervised postgraduate and undergraduate students at the institutes of reputation, like UHasselt, AcSIR, NIT, Rourkela and PESSE, Bangalore. He offered courses like Biosensors, MS thesis grant writing, Ceramics Engineering, Materials Science, Thin films, Engineering Drawing, Mechanical Engineering Sciences, Furnace Design, Thermodynamics. He successfully carried out many international collaborations with different countries.

He also developed expertise in ceramic fabrication techniques like atmospheric sintering, hot isostatic
pressurised sintering, laser assisted net shaping, spark plasma sintering, gas pressure sintering,
extrusion, slip casting etc. He has in depth knowledge of the different characterisation methods for
bulk ceramic samples through his association with ceramic materials over the past 20 years.
He correlates material processing technologies with their observed properties using varied
characterization tools, which are well reflected in his almost 40 peer review articles so far. He has
organized many international conferences and delivered oral presentations. He is currently affiliated
to University of Hasselt as FWO researcher.
Tutor Experience
Lecturer, PES University, India
Lecturer, NIT Rourkela, India
Assistant professor, AcSIR, India
Scientist, CSIR, India
Member of Teaching team, UHasselt, Belgium
Topic Expertise
Laboratory grown diamond, Thin films & coatings, diamond polishing, laser cutting, CVD, PVD, Tribology, Bioceramics, Ceramic membranes, Water Technology, Fuel cell and battery, Ceramic powder processing, sintering, cold & hot iso pressing, materials science, characterisation methods (DTA-TGA-DSC, FTIR, surface area, porosity, nano-Zeta sizer, Dilatometer, XRD, stylus profilometer, SEM, TEM, Raman Spectroscope), mechanical, electrical, wear, friction, biology cell culture, corrosion and other different properties of materials.