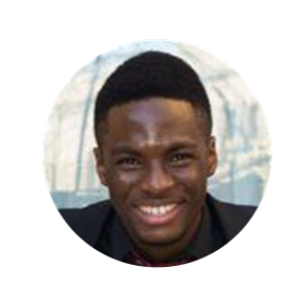 Online Further Mathematics Tutor
Odu
University of Cambridge - Engineering with Management - 4 A*s at A-Level, currently completing university BA degree
5.0
Experienced GCSE/A-Level Physics, Maths, and Further Maths Tutor. I look to make learning a genuine delight for students, as it has always been for me. This is the most effective way to generate long-lasting academic knowledge and understanding.
Recent Students:

4

Total Hours:

35

Last Online:

13 May 2021

All-time Students:

4

Total Classes:

26

Signed Up:

03 Feb 2021
Client Reviews
Helen - Mathematics
Odu has gone through Trig during the lesson, and taught me more intuitive ways of dealing with Trig equations rather than using the CAST diagram.
Helen - Mathematics
Odu has guided me through circle geometry and differentiating by first principles. He has helped me understand some of the more intuitive ways of completing the tasks.
Mrs S J - Mathematics
Went over integration by substitution. Really helpful.
Mrs S J - Mathematics
I recapped integration from my last lesson and also covered R substitution as well as interpreting graphs. Great help!
Testimonials
I am honoured to be writing this reference letter for Odunayo Salu. Having been tutored by him over 4 months near the end of 2020, I can confidently conclude that he is one of the best that any student could ask for. I think the highlight of my classes with Odunayo was his non-judgmental attitude. While he prepared me for my university interviews, I sometimes struggled to remember past A Level concepts or to grasp new ones. Though I would feel slightly embarrassed, Odunayo was patient with me and guided my thinking process with helpful prompts, eventually leading me to decipher the correct answers. He focused on ensuring that I had a thorough comprehension of fundamental topics, beyond the memorization of formulae, and was happy to revisit previous syllabus content for this. He also scheduled as many mock interviews for me as possible, in order to fully prepare me. His sincere investment in helping me reach my full potential motivated me to maintain a rigorous work ethic that allowed me to advance my skills. I certainly owe my understanding of spherical surface areas to him and his apt use of analogies while teaching. It is also worth mentioning Odunayo's systematic approach to tasks - whether that be writing my personal statement or revising for my interviews - that allowed us to complete them efficiently in clear stages. Even so, he is positively open to feedback and was receptive to adapting his methodologies to my particular style of learning if I ever brought up a suggestion. To summarize, I truly believe that Odunayo is the ideal tutor: knowledgeable, encouraging and flexible. His obvious enthusiasm towards helping students become the best versions of themselves is what makes him so successful in his role. I hope many more benefit from his teaching and university preparation services. Warm regards, Sonia Bendre
I am very lucky to have gotten Odunayo as my personal tutor through the UniAdmissions course. He helped me with every aspect of the application process for university. Odunayo is very determined and won't hesitate to spend some time after our sessions to help find websites or research about things that could help me in the next lesson. My biggest concern was working online and through Skype because I thought that I wouldn't get as much help. But Odunayo made it seem like he was tutoring me in person with the use of websites such as AwwBoard that really helped when practicing interview questions. Odunayo has been a very helpful tutor and has really taken the time to ensure that my application process goes as smoothly as possible. To anyone considering having Odunayo as your tutor, I wouldn't think twice about this and I promise you he is one of the best tutors you will find due to his commitment in helping you achieve your target. Pratham Agarwal
I found Odu to be a massive help when preparing for my application to university. Over the course of 2 weeks, we had 1-on-1 sessions to help me craft my UCAS personal statement. Odu always had great advice in terms of which paragraphs to cut and which ones to expand more, and he was especially helpful when it came to getting my personal statement below the maximum character limit. As well as this, we had group sessions where Odu would speak to us about various Engineering topics and he would get us all to contribute and engage. For example, in one session he gave us a typical interview question ('Why can't we build taller?') and we had an in-depth discussion about all of the different factors to take into consideration. He was always happy to take questions and did his best to make sure everyone understood what was being discussed. Thanks to Odu, I made it into my top-choice university (Oxford), and I wasn't the only one. Suyash Agarwal