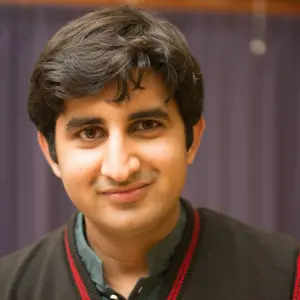 Online Chemistry Tutor
Intasar 4.9

150 classes
The University of Edinburgh - Chemical Engineering - BSc
• 8 years experienced Math and Science tutor
Recent Students:

17

Total Hours:

149

Last Online:

22 May 2022

All-time Students:

26

Total Classes:

150

Signed Up:

07 Mar 2021
About Me
My excellent academic career has nurtured in me, a natural talent for teaching. My experiences have taught me how to tackle one problem at a time, and I believe that using this approach—paired with my unconventional examples that force students to think outside the box—I can truly provide an excellent understanding and explanation.

My Methodology:
My teaching methodology is based on two main things: skill development and adaptation. Initially, I create a skeleton of the most suitable methodology tailored to the preferred curriculum, after which, I adapt that lecture to the specific needs of the student based on their knowledge and grasp of the concepts. Second, I like to develop analytical and scientific ability along with knowledge in my students, and for that, I use a combination of resources in the form of worksheets, class tasks, and past papers. Last, I believe in the strong ethic of providing feedback to the parents, so that they are aware of their child's progress.
Tutor Experience
• 8 years experienced Math and Science tutor. I have been tutoring since 2013 to fund my education expenses. I formally began tutoring in 2014 as part of my vocational training as a teacher in Ghana, funded by the University of Edinburgh. The formal training has taught me a lot about curriculum development, time management, and fusing my teaching methodology to my students' needs. I have been tutoring in Physics, Chemistry, and Math, in person and online; the hybrid model has allowed me to reach out and teach students in 8 different countries. I have successful students from these past five years that have not only commended my work ethic but can also stand testament to my enthusiasm.
Topic Expertise
Which subject(s) do you teach?

I teach Math, Chemistry and Physics, Biochemistry, Mechanics, Statistics. I also teach biology up to GCSE level.

When are you available?

My timetable is quite flexible. I am happy to work weekdays, week evening and weekends.

Which ages and levels do you teach?

The majority of my students are between the ages of 10-18, but I also teach college and university students.

Which qualifications do you prepare your students for?

GCSE, A/S-level, A-level, National 5, Scottish Higher, Early University years, School entrance exams and SATs

Describe your arrangements for online tutoring.

I use Zoom online sessions since it has many tools and features specially designed for interactive and visual learning. I am fully equipped with modern gadgets for e-learning. I use Google drive and docs to share files.
Client Reviews
Fantastic help with all aspects of OCR A level Chemistry A syllabus
Maxine

-
Chemistry
Wonderful help and guidance helping correct a past paper, such as Hess' Law and Kp
Maxine

-
Chemistry
Intasar covered NMR spectroscopy and explained the content very well and clearly!
Christina

-
Chemistry
Very good session. Intasar explained the topic on entropy very clearly!
Christina

-
Chemistry
Intasar makes concepts clearer and enables me to answer exam questions i couldn't even attempt before
Theo

-
Chemistry
very good at explaining complicated topics in a level chemistry and always helps with questions you have
Gema

-
Chemistry
Intasar finds a way to make every concept make sense and comes up with new ways to tackle problems. his teaching style also allows me to discover how to understand and learn from my mistakes in exam questions
Theo

-
Chemistry
The class went really well because I managed to understand some things I didn't understand from before. The teacher was very clear and it was easy to follow throughout the whole time.
Ana

-
Chemistry
An amazing lesson with 3D models of the shapes of molecules that really helped me understand the concepts
Maddie

-
Chemistry
Very nice lesson
Maddie

-
Chemistry
Testimonials
Patient and kind; experienced and skilful, able to inspire and encourage students to challenge themselves. Shelley - Further maths
My daughter has been struggling with Chemistry and I am glad that I have found a tuition at this times, it's really reliable and my daughter have been improving since started. Intasar is a great teacher! - Ana V (A level Chemistry)
Intasar has been tutoring my son for maths. His way of teaching has helped my son tremendously. My son is with very happy with his tuition lessons and his understanding of maths has made his lessons enjoyable. Thank you Intasar for your time and patience. Rukhsana R (Nation 5 Maths)
Intasar has been teaching my son for the past four weeks. My son has found his teaching methods very beneficial . Intasar has an added advantage that he can teach any of the three subjects and is always ready to explain it to him till he understand it. He has created learning folders for my son so he can review all the materials as and when he need to. Intasar is highly knowledgeable and I hope that he will help my son to get high grades in his A levels. Seena T
Intasar is an accommodating and accomplished tutor. He is flexible and open to feedback and able to deliver a session that reflects what you want as a parent rather than what he has experienced as an academic. I was a little wary of asking someone with Intasar's experience to tutor my daughter, but having taken that leap of faith (daughter is intermediate level) I'm happy to say it has paid dividends. Craig S -( GCSE Maths)
My son says Intasar's lessons are engaging and well structured. He uses helpful diagrams and offers good explanations of complex topics. As a parent I have found him to be organised and professional. I would recommend him for students studying Maths and Physics A'levels - Emma G
My daughter, very much enjoyed her lessons with Intasar, he is understanding and adapted the teaching style which best fit my daughter. He is extremely friendly, but still professional. I highly recommend him for Physics GCSE. Uzma (GCSE Physics)
Intasar is a very patient and highly professional instructor with great knowledge in STEM subjects. He literally in one week transformed my young 14 year old Year 10 son from an arts lover into a core science student with a deeper understanding of the sciences than ever before. I'll recommend him to any parent desirable of bringing the best our of their kids. - Mina O (GCSE- Triple Science)
Gave an excellent lesson with incredibly short notice. Very knowledgeable and able to share that knowledge in a clear manner. It has been a difficult time for my daughter who didn't get to university, and this whole situation but Intisar was very understanding and tailored the lesson to suit her and was able to give some of her confidence back. Feedback from my daughter: much better than my own teacher. M-S (Chemistry A levels)
Intasar in not only a great teacher, but is also a great human being. I met him at one of my lower points in life where I needed a lot of guidance and he is the one who helped me through my dark times. The way he teaches is amazing and he does not rest until I've understood what I need to - Fahad (A level Physics)