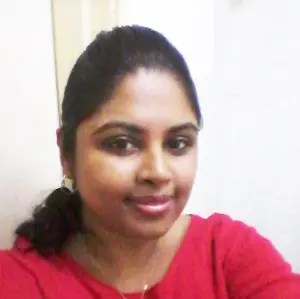 Online Tutor
Anitha 5.0

680 classes
University of Alabama at Birmingham, USA - Physics - Masters
Experienced IBDP, A level, IGCSE and GCSE Physics tutor. More than 15 years of experience in teaching and tutoring. Exam board examiner too.
Recent Students:

13

Total Hours:

712

Last Online:

21 Sep 2021

All-time Students:

49

Total Classes:

680

Signed Up:

23 Apr 2019
About Me
I have masters degree in Physics (USA).

My lessons are well structured with examples and I avoid memorization by guiding students with conceptual understanding. I strengthen students' basic understanding of the subject and then challenge them with critical thinking questions. I am punctual and never cancelled lessons.
Tutor Experience
An experienced IBDP and IBMYP Physics Teacher at an international school.
Marked more than 15 EE's and 200 IA's.

Also teaching A level and GCSE in school.

More than 15 years of experience in teaching/tutoring.

Tutored more than 1000 students.

An examiner for few examination bodies.

I emphasize on conceptual understanding which is crucial in mastering Physics.
Topic Expertise
I have taught in different countries: USA, Japan, Asia and UK

Having taught in different countries, helps me to understand students' mentality in learning Physics from different background. For example, some non-native speaker(English) understands the concept very well but they struggle to understand what the question actually means.

Being an examiner, I am able to advise on the common mistakes student make in answering questions. Some of my students were surprised that they were actually losing marks on questions which they answered with full confident just because they missed the keywords and key concepts.
Client Reviews
Very good
Bernard

-
Physics
It was very good and detailed in her approach.
Bernard

-
Physics
Amazing!
Finn

-
Physics
I understand physics way way better now. The teacher is super friendly, patient and encouraging. I love every lesson with her!
Sofija

-
Physics
The best physics teacher!! We focused a lot on the conceptual understanding part rather than just knowing how to solve the questions.
Shirly

-
Physics
Anitha has been a great teacher that focused on strengthening conceptual understanding that provides a deeper understanding of the syllabus. My ability to solve problems and my understanding of physics has improved significantly since I started tutoring with Anitha. The technology used for the tutoring sessions always aiding the studying process in the best way possible.
Leonardo

-
Physics
Anitha gave clear explanations of new tricky concepts which I now understand much better, and reinforced important things I need to remember for my exams. This was a very helpful class and I feel better prepared for my upcoming tests.
Sadaf

-
Physics
Amazing! Thank you so much Anitha.
Finn

-
Physics
Excellent
Tricia

-
Physics
Good teaching technique
Tricia

-
Physics
Testimonials
From Finn: Hi Anitha, it turns out my paper went just as well as I thought it did; I got a 9!!! 28-05 12:24 Thanks again for all your help! It has been amazing and I couldn't have got a nine without it.
From Maja: Hello! I just found out that my exams are cancelled! 12-04 17:29 I would like to thank you for the lessons, you made physics very interesting for me, and I appreciate it greatly :) 12-04 17:29 Thank you for all! Wish you all the best as well, you are truely a great teacher!
From Nicki: I have studied A level physics with Anitha. She has an innovative approach to teaching and breaks the concepts down to make content understandable. She really helped build my confidence and i now really enjoy the subject. Flo
From Olivia: Hello Anitha! I'd like to thank you for all your help last summer, I've got a solid predicted 5 now, and an offer to Bath university! Thanks again.
Price: $52/hr
No Upfront Payments
Passed Our Interview
Only Tutors Online
Background Checks
Uploaded
Qualifications
Master of Science Degree in Physics , USA

Bachelor of Science Engineering Degree in Media & Telecommunication Engineering, Japan

A level, IBDP , GCSE, IGCSE, IBMYP

Currently teaching in UK.

Teaching/Tutoring experience: more than 15 years
Availability
| | Weekdays | Weekends |
| --- | --- | --- |
| Morning | | |
| Afternoon | | |
| Evening | | |