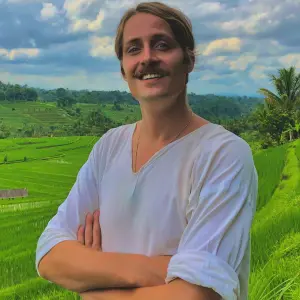 Online Geography Tutor Jan
Jan 5.0

519 classes
University of Edinburgh - PhD Geography and Geology - Biological and Environmental Sciences- - PhD in Geoscience
Passionate A-Level & University teacher and tutor in Geography, Biology , Environmental & Earth Sciences, with dynamic, interactive and creative classes.
Recent Students:

45

Total Hours:

692

Last Online:

04 Jun 2023

All-time Students:

60

Total Classes:

519

Signed Up:

08 Sep 2022
About Me
About myself

I am a passionate, open-minded and creative academic professor and tutor in Geography & Biology Earth & Environmental Sciences.
I am currently a Geography & Biogeology University Lecturer and have been involved in exam marking through all levels up to University (AQA, CIE, OCR, Edexcel, Educas syllabuses)
I hold a First class Master's degree in Geography and Geosciences (MSc), reflecting my great passion for the Environment and Nature that surrounds us, BSc in Biology and BSc in Geography and Environmental Sciences, Postgraduate Certification in Education (PGCE) and a Certificate in Teaching English to Speakers of Other Languages (CELTA).

My teaching approach

My main focus is trying to wake up the passion and genuine interest in my students. Through creative and dynamic approaches I show the student a great variety of applications of what he/she is learning in the real world. We start by addressing students' weaker areas and solidifying their knowledge and understanding in these fields, while we develop overall confidence in the subject necessary for the top scores.


• Forget about the headaches that Science, Biology and Geography bring you and develop a passion for Nature Sciences and all the eye-opening perspectives the knowledge of our Blue Planet gives you.
• Learn in a time-effective and accessible manner.
• Do you need support in your regular coursework/homework or maybe you are preparing for an important exam? Or perhaps you just want to boost your performance?
o I am here to help you and support you through all that process!
• I am perfectly prepared to back you up through your University workload, assignments and exam preparations.
• My lessons are dynamic, audio-visual and interactive

Classes are pre-planned and tailored for the individual, adapting to your needs with fully prepared notes and supporting materials for:

• SATs
• GCSEs
• National 1-5s
• AS / A levels
• Collage / University


Tutor Experience
I have been teaching A-level to University level Geography, Geology, Biology and Environmental Sciences for the last 6 years across a great variety of exam boards (CIE, AQA, OCR, Edexcel) with over 5 years of experience in working with University Undergraduate and Postgraduate students supporting them in the variety of courses in Physical, Human Geography, Geology and Bioenvironmental Sciences.
80-85% of my tutees score A/A* at their A-levels!
20-40%+ grade improvement rates for my University students.

I am holding a PhD in GeoEnvironmental Sciences with my expertise ranging in Physical Earth Environment and Processes, Molecular Biology, Biogeochemistry and Geology/Geophysics.

My extensive over 6 years of experience in a classroom setting, one-to-one & group online teaching and tutoring UK students has given me a great variety of insights into different teaching approaches. Last 4 years I have been employed as an academic lecturer/assistant across various universities in Scotland and the UK (University of Edinburgh, Aberdeen) and as a private online tutor. Thus, I am perfectly familiarised with the requirements and skill sets needed for students entering Highschool, Collage or University.

I have taught students taking GCSE/IGCSE, A Level, IB , and Pre-Uni exams during their academic Undergraduate and Postgraduate carrier– conducting the majority of my lessons online. During my time as a tutor, I have covered all of the major exam boards for A-Levels including AQA, OCR A &B, Edexcel, CIE, and EDUQAS including international CAIM.

have delivered more than 8400 hours of 1:1 tutorials to students since 2018. I have taught Geography, Geology and Bioenvironmental Sciences extensively. This has been done at all levels from Secondary school to the Undergraduate level. I was covering the national syllabus, practical/experimental work, exam preparation, providing predicted grades, and working with national and international students.


Topic Expertise
Geography (GCSEs, National 1-5s, A-levels, College/ University preparation) + coursework/homework/exam prep.
Geology
Biology
Environmental Sciences

Client Reviews
so helpful thankyou!!!
Rachel

-
Geology
Lesson was very well prepared and delivered well - I learn so much more the way that Jan teaches!
Becky

-
Biochemistry
Great class!
Becky

-
Biochemistry
Very productive lesson.
Hamad La Jassim

-
Geography
Amazing !
Monier

-
Geology
Excellent
Roan

-
Geography
Excellent
Roan

-
Geography
Jan is an excellent tutor that is easy to work.
Holder

-
Environmental Science
Great intro to class
Hamad La Jassim

-
Geography
Excellent class - Materials very well explained
Ravi

-
Geography