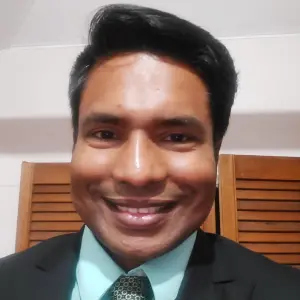 Online Human Biology Tutor
Siva 5.0
University of Sydney and Uni of Tasmania - Biomedical Science, Anatomy, Physiology, Business Management, Psychology, Biochemistry - PhD
An experienced University Lecturer in Anatomy, Physiology and Neurosciences subjects for 10+ years. with several publications in journals, magazines and books.
Recent Students:

0

Total Hours:

0

Last Online:

25 May 2021

All-time Students:

0

Total Classes:

0

Signed Up:

04 Dec 2020
About Me
I am a passionate educator who loves empowering youths towards strong fundamentals and positive culture. I am originally from Singapore with robust educational and cultural fundamentals, I have worked in several Australian Universities and Medical Research Institutes since 2008. My core values are honesty, trust and understanding to forge a long-term positive culture. I am also a mentor who has helped build the careers of many individuals from undergraduate to professional levels.
Check my LinkedIn profile- https://www.linkedin.com/in/dr-siva-purushothuman-09667489/
Tutor Experience
I have taught undergraduate Medical Sciences, Nursing, and postgrad MBBS/MD subjects at University of Sydney and University of Tasmania since 2009. Subjects include Physiology, Anatomy, histology, pathology. I also possess solid writing skills, having written, published and edited professional work (e.g Journals, reviews, magazines and books) in the Medical field.
Topic Expertise
Medical Physiology, pathology, diagnostics, quantitative/qualitative analysis, anatomy, business, psychology, biochemistry, Biomedical Sciences (University & pre-university levels)