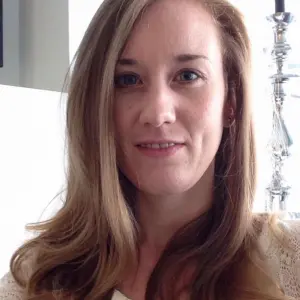 Online English Tutor
Bianca 5.0

290 classes
Oxford University - Linguistics - Master's degree
A secondary school English teacher and private tutor since 2008, I have experience of teaching a wide variety of English language, English literature, and TOK/Critical Thinking curricula (IBO, Edexcel, WJEC, AQA, CIE). I have also had experience of privately tutoring undergraduate and postgraduate students (including assistance with dissertations).
Recent Students:

1

Total Hours:

287

Last Online:

03 Sep 2022

All-time Students:

40

Total Classes:

290

Signed Up:

29 Jan 2021
About Me
My teaching career since 2008 has seen me living and working in France, the U.K., and the Netherlands. I am a fully qualified teacher in the U.K. system (QTS+NQT) and have been an examiner since 2011 (GCSE, IGCSE, IBDP). I have also had articles published in educational magazines and journals such as TES, Teaching English, and The Use of English, as well as having research published by the Chartered College of Teaching. I am an experienced private tutor, examiner, and educational writer, producing bespoke educational materials for companies like Kognity and Academic Minds alongside teaching. My first book, A-Z of TOK, was published by Elemi Education in 2021. I am currently taking on only very limited numbers of new clients (mainly correspondence support) as I now work full-time in a school.

QUALIFICATIONS
Qualified Teacher Status (University of Reading, 2014)
MSt General Linguistics & Comparative Philology (University of Oxford, 2008)
BA Classics and English (University of Exeter, 2007)
Tutor Experience
My interdisciplinary, formative approach to teaching emphasises high standards, low pressure. My experience since 2008 has been mainly with secondary school pupils but also briefly with Year 6 children (2017-2018), meaning I have a full understanding of the transition from primary to secondary school. I have also served as Head of Year 11, and taught secondary English, French, TOK and Global Perspectives in 6 schools to date (3 U.K., 2 NL, 1 FR). Courses taught include:

IBDP: TOK, English A: Language and Literature, English A: Literature, English B
A Level: Classical Civilisation, English Language, English Literature, Critical Thinking (AQA, Edexcel)
American High School Diploma: American Literature
IBMYP: English Language and Literature
IGCSE/GCSE: English Language, English Literature, First Language English, Second Language English, World Literature, Global Perspectives (AQA, CIE)
Key Stage 3 (age 11-14) : English Language, English Literature.

I have also been an examiner since 2011 and have examined a wide variety of texts in relation to this role, including (most recently) A View From The Bridge, Spies, the poetry of Owen Sheers and Carol Ann Duffy, Tess of the d'Urbervilles, A Thousand Splendid Suns, and Pride & Prejudice.
In addition, I have experience of privately tutoring undergraduate and postgraduate students (including assistance with dissertations). Texts taught at university level include Carmilla (Le Fanu), The Picture of Dorian Gray (Wilde), The Left Hand of Darkness (Ursula Le Guin).
Topic Expertise
English language (B1+ : first or second language) English literature (any level), TOK/Critical thinking (IBDP/A Level), French (up to and including A Level), Global Perspectives (IGCSE).


Texts taught include:
Undergraduate: Carmilla (Sheridan Le Fanu), The Picture of Dorian Gray (Oscar Wilde), The Left Hand of Darkness (Ursula Le Guin), The Kite Runner (Khaled Hosseini), Pride and Prejudice (Austen)
IBDP/A Level: A Streetcar Named Desire, A Doll's House, The Sound of Waves, The Sorrow of War, the poetry of TS Eliot, John Keats, and Emily Dickinson, Death and the King's Horseman, the works of Edgar Allan Poe, The Jew of Malta, Translations, Wuthering Heights, The Handmaid's Tale, Jane Eyre, Frankenstein, Chronicle of a Death Foretold, A Kestrel for a Knave, One Flew Over The Cuckoo's Nest, The Bell Jar, poetry of Sylvia Plath, Catch-22
IGCSE/GCSE: Of Mice and Men, A Christmas Carol, Love & Relationships (AQA Poetry unit), Hedda Gabler, Things Fall Apart, The Country Wife, the poetry of ee cummings, Elizabeth Barrett Browning, and Amanda Chong, Balzac and the Little Chinese Seamstress, Romeo and Juliet, Stoner, The Great Gatsby, 1984, Lord of the Flies, WW1 poetry, short stories of HG Wells
Key Stage 3/MYP: Wonder, A Long Walk To Water, Chinese Cinderella, The Demon Headmaster, Boy, The Curious Incident of the Dog in the Night-time, A Little Princess, The Thief Lord, The Tempest, Refugee Boy, Across The Barricades, The Hunger Games, the poetry of Alfred Noyes, Simon Armitage, and Imtiaz Dharker

Topics taught include:
Postgraduate: Applied linguistics
Undergraduate: Analysis of multimodal texts; semiotics
IBDP/A Level: Analysis of multimodal texts (films, advertisements, blogs etc), translation, de Saussure's semiotic theories, semantics, pragmatics, language and identity, language and cultural context, graphology, phonology
IGCSE/GCSE: The history of comedy, introduction to linguistic analysis, global issues (possible causes and solutions), the representation of global issues in literature, page to stage
MYP/KS3: Forms of poetry (including haiku), recounts, figurative language, directed writing, language and the environment, debates and speeches on global issues

The teaching and promotion of good spelling, grammar, punctuation, paragraphing, and essay-writing skills are embedded across the age range, with essay-writing taught from age 11. Critical thinking skills and TOK integration are also integrated into lesson planning across the age range, with especial emphasis on this for A Level/IBDP lessons.
Client Reviews
Helpful as always. Thank you.
John

-
English Language
Bianca is an amazing resource. We have found her tutoring to be immensely valuable. She takes the greatest care and brings a wealth of knowledge to the tutoring meetings which she imparts with friendliness and clarity. She has been a fantastic support and we give her the highest reccommendation.
John

-
English Language
Biana gave fantastically helpful comments that were easily digestible and encouraging - I would recommend her to anyone!
Rachel

-
English
The marking of the English Literature exam paper was done quickly and practical feedback was provided (which was important as my daughter is prepping for exams). Additionally to marking the work, Bianca has been excellent at communicating with us and patiently answering our questions prior to this, which has been really appreciated.
Aria and Owen

-
English Literature
Bianca has been super helpful in all her suggestions. I have appreciated all her efforts
Humaira

-
English
Appreciate Bianca's last minute availability and constructive input!
Tatiana

-
Global Perspectives
Bianca helped me with feedback for a BA English final year essay and her notes were extremely helpful and she also got back to me within a quick turnaround time as I was working to a narrow deadline - would definitely recommend!!
Joey

-
English
Very effective use of time and clear and encouraging directions.
JJ

-
Extended Essay
Super helpful and thought me a lot of interesting concepts
Oda

-
Theory of Knowledge
Excellent Class
Den Steve

-
English
Testimonials
"creates a comfortable, safe learning space" - EM, former student "her class was utterly enjoyable" - RF, former student "her classes taught me to confront difficult questions" - CO, former student "a thoughtful, engaged, and dedicated teacher" - JB, former colleague "encouraged me to strive higher and harder...will leave an everlasting positive impression" - MA, former student "she truly changed my approach to education" - IN, former student "energetic and inspiring" - NB, former colleague "always there to help...I have never seen so many students so sad for the departure of a teacher" - VG, former student "her lessons helped me to foster my passions for literature and linguistics" - SKL, former student "an incredibly knowledgeable team player" - RW, former colleague "She has infectious enthusiasm...and a genuine passion for the art of teaching" - ZW, former student "made sure to keep the class interactive...I used to hate participating in class but that changed very quickly" - NG, former student "an outstanding professional" - SU, former colleague "She gave detailed feedback, enabling us to see what was achievable" - RK, former student "the most meticulous teacher I have had to date...always creates an engaging class...encouraged us to break out of the mould and become more self-aware" - NA, former student "her knowledge of literature is superb" - EW, current colleague "always successful at identifying the strengths and weaknesses of each student" - DF, former student "a strong believer in collaborative learning" - CE, former student "extremely hard-working" - PM, former colleague "She was one of the first teachers to give me confidence in my abilities...and taught me to exchange ideas with those around me, which has been vital to my integration at Yale University" - AS, former student "In short, she is an exceptionally gifted teacher...Most importantly, she truly cares about her students" - ST, former student "bright and enthusiastic...creates a genuine rapport...any student would be lucky to have her as their teacher" - LL, former student