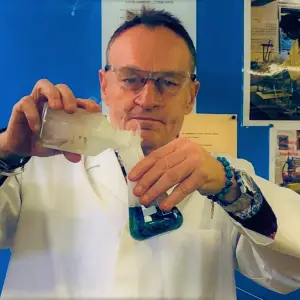 Online Tutor
Dr Noel 5.0

57 classes
Monash University - PhD and MSc -
Recent Students:

0

Total Hours:

61

Last Online:

01 Sep 2021

All-time Students:

12

Total Classes:

57

Signed Up:

09 Jun 2020
About Me
I am presently Head of Chemistry at University College where my main duties involve teaching chemistry (IGCSE), A-level and pre-U chemistry (CIE).

I have prepared students for the RSC Chemistry Olympiad and have had reasonable success with several gold and silver awards for my students.

I am a senior examiner with OCR for A-level
I am an assessor for OCR for the PAG (CPAC) component for A-level
I am a consultant for OCR in organic chemistry

I teach chemistry in a very different way: albeit a very hard physical science, I try to make it fun. I am a very patient tutor and remember some of the struggles I had during my years of study at school and university.
Tutor Experience
I have been tutoring in the UK for over 20 years.

In the last five years my success rate with my students has been of a very high achievement: for 2018/19 for example my A-level students' results were 8 A*'s and 2 A. Three of my students gained entry to Oxford and Cambridge: one to study medicine and two to study chemistry.

I have tutored successfully pharmacy students in their Foundation Year of study and for two years I was a tutor at Birkbeck College (University of London) where I was in charge of the Foundation Course for medical and pharmacy students.

I have a great deal of experience in not only tutoring students for medical programmes , but for pharmacy, vet and other chemistry related courses.
Topic Expertise
I have an honours degree in chemistry, as well as a MSc and a PhD. But that tells you nothing about my ability to teach chemistry.

I have won two major teaching awards in the UK for my style and approach to teaching chemistry.
I have also won a European award in Science for my innovative approach to teaching chemistry.

I have an expert knowledge of chemistry in all areas; however, I am not a walking encyclopedia and if I do not know the answer to a question from a student, I saw I do not know and I make sure I research the area/topic I did not know.

I read widely around the subject and continue to keep on top of modern approaches, like for example how chemists are developing modern biodegradable polymers to stop plastics clogging up the oceans.
Client Reviews
Luke feels much more confident on this topic now!
Stephanie

-
Chemistry
Class went well, Noel hit exactly right tone and covered topic in easy to understand way
Stephanie

-
Chemistry
Testimonials
TESTIMONIALS: I would like to thank you immensely for your hard work and your inspiration and your unique method of teaching chemistry. Your knowledge of chemistry is amazing, but you always seem to have the ability to teach the most difficult concepts in a very understandable way. My daughter obtained an A* and got into Cambridge to study medicine. 2018. As an aside, her father was a Professor of Chemistry at Kings but was not able to teach his daughter. - Parent from London On behalf of my Brother and I, we would like to thank you for your invaluable teaching and guidance. You have turned us around in chemistry and you have pushed us beyond what we thought was possible. You have continued to inspire us and amplify our love for chemistry, and we are eternally grateful for everything. Entry students into Medicine. 2019 - Students from London