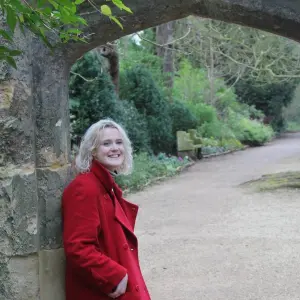 Online History Tutor
Ellie 5.0

1327 classes
University of Oxford - Ancient and Modern History / MSc Psychology - BA Double First Class Hons, MSc TBC Distinction
Fun and Enthusiastic Tutor for GCSE/A-Level Humanities subjects and undergraduate/postgraduate University Applications!


Recent Students:

28

Total Hours:

1443

Last Online:

22 May 2022

All-time Students:

110

Total Classes:

1327

Signed Up:

14 Jul 2019
About Me
My name is Ellie and I'm a first class history graduate from the University of Oxford. I love anything and everything to do with history, RS, psychology and Government and Politics! I am currently studying Psychology at MSc level and love to help students achieve their goals. When I'm not tutoring I'm usually watching Netflix !

I'm super flexible on topics however and also have a great deal of knowledge about historical theory and historiography so please do contact me! Keen to teach KS3, A Level and University students in particular. I also can tutor for Oxbridge admissions for History and related schools.

How I Teach:

GCSE/ A-Level students - I structure my lessons around a 'big question' that is similar to an exam question. We then work through it by examining sources (like 3D statues online) and constructing resources which can be used eventually for revision. At the end of the session we work together to plan the question set at the start of the lesson by drawing on the content that we have engaged with. In between sessions I set something to watch/listen to something relevant to their topic. I use educational psychological techniques like this to help students memorise, consolidate and evaluate the information in their long term memory. This helps students in the long term re-engage with material at revision time!

Admissions students (HAT, Oxbridge, UCAS, Postgraduate Masters and PhD proposals):

I give personalised feedback on Personal Statement, help you improve skills of historical insight and inference through setting an unseen source weekly. I also get students to engage with wider theoretical historical works and debate them in session. I also able to run mock interviews.

I have a 24 hour cancellation policy. I do not teach Sundays :)
Tutor Experience
Over 1500+ hours of experience in teaching OCR, Edexcel and AQA, exam boards for A-Level/IB/iGCSE for

* History (any time period/paper) , Psychology, RS, Government and Politics*

** Excellent Admissions Track Record - 100% of my students have successfully passed the HAT and gained interviews for History, Archaeology, Anthropology, Politics, Classical Archaeology and Ancient History . Most of my postgraduate tutees have successfully been accepted at their preferred institutions**

I was Vice President at the Oxford Student Union and worked closely with the Admissions Department as well as college admissions officers on the admissions process meaning that I have an extremely unique and intimate insight to the admissions process that very few have.

I achieved a First Class Honours degree at St Hilda's College and am currently completing an MSc in Psychology at Edinburgh University where my predicted outcome is a distinction.

I was chosen to tutor Classics and History for two years on the University of Oxfords official summer schools (UNIQ). I was also hired to give sessions on the HAT, personal statements and interview technique by the Faculty of Classics for hundreds of 16-17 year olds.

I am also a published author, and my article was successfully peer reviewed in the prestigious Lancet Medical Journal - 'Mental Health Care for University Students; A Way forward?'.

Topic Expertise
I specialise in:

Oxbridge and other University Admissions (and History Aptitude Test)
Ancient History and Classical Civilisation (46BC- 300AD)
Medieval History (1100-1600)
Modern History (1600- Present)
Psychology (A Level, GCSE)
Religious Studies, Theology , Philosophy and Ethics (A Level, GCSE)
Government and Politics (A Level, GCSE)

I teach all exam boards (including iGCSE) and have extensive experience of many time periods.
Client Reviews
Ellie's knowledge is superb, my daughter is extremely positive about her tuition with her.
Kate

-
HAT
Elliot enjoyed the lesson
Jason

-
History
very informative lesson!
Jaydon

-
History
Cara told me (her mum Gail) she found the lesson very helpful.
Gail

-
History
Really, really helpful! Ellie helped me improve the quality of my writing so much!
Angelica-Jane

-
Oxbridge Entrance
Ellie is just fab! She is very clear and helpful and my confidence is boosted for my submission.
Stevie

-
Ancient History
Ellie is an excellent History tutor! She's enthusiastic, very knowledgeable, very well organised and provides great feedback and support. Highly recommended!
Sunny

-
Oxbridge Entrance
Great help
Jennifer

-
UCAS
Once again Ellie Proof read my work and with her help I can say I am confident enough to perfect my essay and achieve the grades I want
Ali

-
Essay
Helped a lot with the work today.
Chloe

-
History
Testimonials
I successfully applied to the Oxford MSt for Classical Archaeology and I had several lessons with Ellie regarding writing a personal statement and throughout them she helped in a very clear and understandable way with regard to piecing it all together. She knows what she's talking about and gets to the point, and I highly recommend her!
Thanks Ellie for all your help with my personal statement. Without your help it would not have gotten to the stage it is now.
Ellie is not only an experienced tutor, but she is also really fun and engaging! Ellie has really helped me develop my personal statement over these few weeks. Comments and corrections were clear and in-depth, I now know how to improve my personal statement without feeling overwhelmed, so helpful! I am incredibly lucky to have met her.
Ellie was perhaps the best tutor I have had the pleasure of working with. Not only did she respond to all my questions with helpful answers, but she was supportive and accommodating in every way. From messaging on the site to video conferences, I can honestly say Ellie was a perfect tutor.
Ellie has been a fantastic tutor! Her lessons are thorough and engaging and she always finds ways to keep it interesting. She has helped me with content, analysing sources and exam technique - I would highly recommend her.
Ellie is a superb tutor. Her methods of teaching are so detailed and cleverly, gently nudge the pupil to their full potential. She also helped with a personal statement which the school loved and we are waiting to hear from our university choices. Thank Ellie x