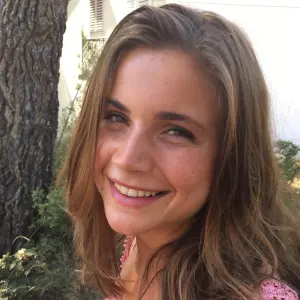 Online Tutor
Zoe 5.0

179 classes
LSE (London School of Politics and Economics) - Social Policy With Governnment - 1st class
Currently studying Medicine (MBBS) at UCL
Recent Students:

6

Total Hours:

209

Last Online:

21 Jun 2022

All-time Students:

11

Total Classes:

179

Signed Up:

08 Apr 2020
About Me
Hi, I'm Zoe. I'm currently studying medicine at UCL, having already graduated from the London School of Economics (LSE) with a first-class degree in Social Policy and Politics. With 8 years of university education behind me, I am excited to share my tips and strategies for learning so that students excel in their exams. I am keen on tutoring medical university students, social science university students, Biology A-level students, and those studying Croatian. Furthermore, given that I have recently undergone the medical application process, I am equipped to mentor students through the medical school interview process, with extensive mock interview practice, as well as BMAT and UKCAT tutoring.

Regardless of the subject, I will teach students how to maximise their efficiency using what I have learnt from research on the science of memorisation and knowledge recall. This will save them time and effort in preparing for your exams.

With every new student, I will first ask about their goals and learning style, to make sure we can form a plan for our sessions that will leave them feeling confident for their exams.
Tutor Experience
I have tutored over 200 hours online. I have extensive experience tutoring undergraduates in essay-writing, both for exams and assignments, including dissertations. Essay subjects I have experience in include Social Policy, Public Health, Political Science, International Relations, and Nutrition. I also have experience tutoring students interested in applying to Medicine, preparing for interviews and entrance exams. Additionally, I have taught small groups of medical students on physiology, and tutored A-level biology. Last summer, I worked as an English teacher at an English language immersion camp for European students in Croatia.
Topic Expertise
I have a special interest in social-science essay-writing, and can offer both tutoring and remote proof-reading and editing. I have tutored undergraduate and masters students reading Politics, International Relations, Social Policy, Public Health, and Nutrition.

As a final year medical student, I also tutor Biology A-level and Medicine as an undergraduate subject.

I have experience preparing students for medical school applications, including interviews and the BMAT and UKCAT.

Lastly, I offer tutoring on general study-techniques and revision planning in order to maximise efficiency and consolidate learning. This is all based on my research into the science of learning.

Client Reviews
My last class with Zoe :( The most professional and encouraging tutor I have ever had. She has helped me so much through this academic year and I have come a long way! Her methods are precise, clear and get you the results needed! So grateful for the help and guidance, priceless!
Sophia

-
Politics
Amazing feedback, very very helpful, thank you so muchh!!!
Ghaliah

-
Sociology
Such good feedback, thank you so much for your help!
Ghaliah

-
Sociology
Excellent, very helpful.
Victor

-
Politics
Zoey is a fantastic tutor! We have talked through the essay before I submit it in a few hours, and she has provided me with valuable advices! I absolutely loved working with Zoe, and the only reason why I am upset to graduate now is because I will miss our sessions, a lot! I am honoured to have worked with you, and I am going to miss our sessions a lot! :)
Csepke

-
Essay
Testimonials
Feedback from a Politics student: Zoe is the most professional and supportive tutor I have ever had. She really cared about me and my studies and has brought me such a long way! Zoe's methods are precise and easy to understand and allowed me to get high marks. Not only does she show you what to do, she makes sure you implement her techniques into your work. This has ensured me that forever I will know exactly how to formulate an essay response to a question and how to structure any essay. She always finds a time to help you when needed and is great with communicating. Her lessons are so productive and I leave every lesson feeling like I have learnt and made great progress. She shares the happiness of my achievements with me and has put so much work into helping me succeed in my degree. Besides being very smart, she is a very happy and enthusiastic person to have class with. I forever will be very grateful for Zoe! Definitely the best tutor you could ever ask for and the best choice you could make in your education! Will miss working with her...
Feedback from a Sociology student: Zoe is extremely supportive, dedicated to help with my studies and has a genuine interest in my education. During our work together she allowed me to understand why I cannot achieve the marks I want on my essays, where the holes - that I was not aware of - were in my knowledge, and provided me with a set of tips on how to improve. In the lessons she strongly encourages me to practice the tips she has given me; this way she doesn't temporarily help me solve my study problems but prepares me to be able to use the tips by myself too. She encourages me to ask questions during lessons, and she makes sure that I understand everything well, even if it takes several ways to explain. She does not get bored of explaining and goes over and beyond to assure that I understand the module (and consequently achieve my desired grades). After every lesson with Zoe I feel empowered and confident to achieve my goal! She puts an incredible amount of work into my improvement and shares my happiness when the hard work pays off. The hard work with Zoe's support does pay off, as in just over a few months' time she helped me to improve my BA Sociology grade from a 2.2 to a high 2.1! All because she has extensive knowledge about not only the subject, but also about how to unlock the hidden potential in people! She is extremely professional and supportive, but at the same time she is the most delightful person to learn from. I am grateful to have gotten the chance to study with her! Studying with Zoe will be the best choice you make in your whole education too!
Feedback from an undergraduate International Relations student: "Zoe is really inspiring and it motivates me to overcome my challenges. Equipped with a toolbox of methods and tips and tricks, she is putting me in a better position to master my coming exams. Also Zoe has a genuine interest for the science of learning."