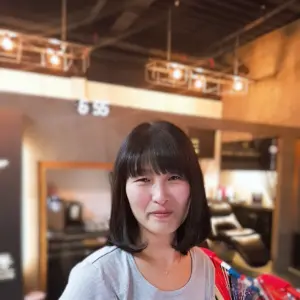 Online Korean Tutor
Jeong-eun 5.0
Keimyung University - BA degree - Korean Tutor
Accomplished Korean language tutor with extensive experience
Recent Students:

0

Total Hours:

0

Last Online:

23 Feb 2022

All-time Students:

0

Total Classes:

0

Signed Up:

24 Aug 2018
About Me
** And here are a selection of my relevant qualifications: **

• Award for the best Korean teaching lesson plan - Overseas Koreans Foundation
• Award for the essay writing competition - Digital Seoul Culture Arts University
• Award for the essay writing competition 1st place - Sejong Cyber University
• Korean National Open University - Korean language teacher's training program
• Digital Seoul Culture Arts University - Korean language teacher's training program
• The Association of Korean Schools in the UK - Intensive Korean teacher's training course
• Overseas Koreans Foundation - Korean school teacher's certification course
• National Institute of the Korean Language - Korean teaching with Korean culture
• Keimyung University - Lifelong educator qualification
• Keimyung University - BA in American Studies
• Korean National Open University - BA in Chinese Language and Literature
Tutor Experience
Highly experienced, passionate and friendly Korean teacher
Hello (안녕하세요!) - My name is Jeong-eun. I am a passionate, friendly and highly experienced Korean teacher.

I believe learning a new language is one of the best things you can do. It gives you access to a whole new culture! I'm completely obsessed with my country of Korea and I'd love to share my language and culture with you! I've got tons of experience teaching Korean to non-native speakers. I've done everything from working with the US military in Korea to collaborating with museums, charities and TV production companies here in the UK. Currently I'm working with the Korean Embassy in London to provide a Korean language and culture program for school (secondary/primary schools) kids in the UK.

So... whether you're in love with K-pop or K-drama, or you just want to learn Korean, I'm ready to help you! Get in touch to begin your exciting Korean journey!

I really look forward to hearing from you soon and helping you start your exciting journey with Korean!
Topic Expertise
** Here's what I can help with: **

• Korean basics - Learn the alphabet and simple pronunciation, introductions, and key expressions.
• Learning Korean with your favourite Korean TV shows (e.g. K-drama), K-pop songs
• Conversational Korean - This is most popular! Learn Korean while chatting about the things you love
• Korean trendy idioms and phrases
• Business Korean - Are you going on a business trip? I can help you impress your Korean clients!
• Korean history, culture, food, etc - I LOVE Korea and am ready to share my country with you!
• Korean iGCSE
• Korean TOPIK examination preparation (writing, grammar, listening etc.)
• Korean Speech Contest
• Bespoke tutorials for your needs or interests.