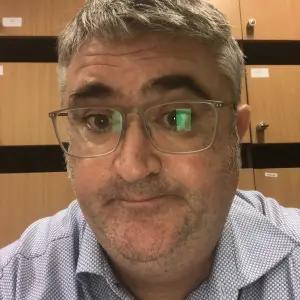 Online Biology Tutor Philip
Philip 4.9

335 classes
Cardiff University, Leeds University, Birkbeck College (University of London) - Bachelors degree Zoology (with research training), PGCE Secondary Biology, Masters in Human Health and Disease - B.Sc, PGCE, M.Sc with Merit
Experienced Science and Mathematics Teacher. I have enthused hundreds of students with excellent subject knowledge and passion for the subject. I am a professional, dynamic educator who is passionate about my subject and has taught all the major exam boards and tutored many students to exam success. I'd be happy to help!
Recent Students:

23

Total Hours:

308

Last Online:

05 Jun 2023

All-time Students:

49

Total Classes:

335

Signed Up:

22 Mar 2022
About Me
I have been a teacher for 25 years in various countries and am an experienced practitioner in A level and IB Biology and Chemistry. Have taught all Sciences and Mathematics to GCSE and IGCSE level. I have extensive knowledge of all syllabus requirements for the major U.K. exam boards. I am an engaging and enthusiastic teacher with clear understanding of topics and how you need to succeed.
Tutor Experience
UK Secondary Schools 1996 to 2011 General Science Teacher to GCSE level - Biology and PE to A level
I tutored privately throughout this time including BMAT University entry exams
Residential Tutor with Justin Craig Education 1999 to 2013
Head of Science and Mathematics Chongqing China 2013 to 2015 - I taught Biology and Chemistry A level and IGCSE Sciences and Mathematics
IB Chemistry Teacher Putrajaya Malaysia 2015 to 2017 - I taught IB Chemistry and Science to IGCSE
Chemistry A level teacher North Tyneside UK 2017 to 2018
IB Biology Teacher Frankfurt Germany 2019 to 2021
I teach through a topic fully - then review - then follow up reinforcement exercise / exam practice.

Topic Expertise
GCSE - I have taught AQA, Edexcel, Cambridge boards in Separate Physics, Chemistry, Biology and Combined Science
IGCSE - I have taught Edexcel, Cambridge boards in Physics, Chemistry, Biology, Mathematics
A level - I have taught AQA/Edexcel/SNAB/Cambridge/Eduqas Biology, AQA Chemistry, AQA PE
IB - I have taught Biology and Chemistry to HL and SL students to diploma level including EE and IA supervision
I have DELF B1 level French and am a confident speaker

Client Reviews
I feel like I threw my €40 in the bin. Philip was seem to be so sleepy and I did not see any enthusiasm from him. He made couple of easy mistakes which I had to point out. I am not paying my €40 to see a man yawning and not able to do an easy calculation.
Kazuki

-
Biology
Megan said it was really useful and helped point out some areas she needed to revise more.
Caroline

-
Biology
My son has enjoyed the lesson
Mohamed

-
Biology
very helpful!
Daphne

-
Biology
Really good teacher!
Stelia

-
Biology
He explained the topic really well and broke it down for me and I understood it so well
Khalida

-
Biology
very helpful
Daphne

-
Biology
went through bio paper 1
Anson

-
Biology
He supported and improved my IA - Method, control variable,..etc
Dongho

-
Biology
Went through IGCSE Paper 1 and explained it very well. Would be better if we had more time!
Anson

-
Biology