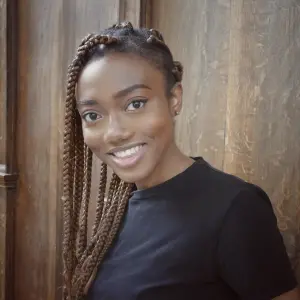 Online Biology Tutor Victoria
Victoria 5.0

26 classes
University of Cambridge - Natural Sciences - MSci
Friendly and committed Natural Sciences student aiming to boost your confidence and knowledge to help you realise your potential!
Recent Students:

0

Total Hours:

46

Last Online:

17 Sep 2022

All-time Students:

1

Total Classes:

26

Signed Up:

16 Jun 2021
About Me
Having always been interested in science, especially diseases and their treatment, studying a Natural Sciences degree was the perfect option as it allows me to explore biological questions using chemical and physical tools. I am currently specialising in Biochemistry where I learn about the molecular basis to biological systems as well as doing research in a lab, performing experiments to observe these taught concepts in action. Outside of my degree, I love to be active- I am on my university basketball team and college football team. I am also part of the gospel choir and have been involved in Cambridge theatre! In my own time, outside of university societies, I practice calligraphy and play the kalimba.
Tutor Experience
I have been tutoring for 8 years, starting at a KUMON centre as a Maths and English tutor for more than 30 students. Since then, I have been part of multiple access schemes and mentoring programmes with students varying in age, ability and backgrounds. This includes the Project Access mentoring scheme in Cambridge where I tutored a student in A-level Biology, Maths and the Natural Sciences Admission Assessment (NSAA). I was able to boost the student's confidence in their academic ability by providing guidance on making application to top universities, including personal statements and interview preparation tips as well as sharing my personal experience. My student was successful in their application to Cambridge University; they were admitted that year.

As a student myself, I know how daunting exams can be - not only the knowing the content but also executing good technique which is why I'm so keen on helping students through tutoring. I can help students improve in their understanding of subject content and their approach to answering exam questions by going at a good pace for each student and lots of practice! 'Practice makes perfect' is definitely a technique that works well and should be used to students' advantage which I will ensure with take-home questions at the end of sessions. My lessons will be interactive to ensure that the student is relaxed and engaged, with questions throughout to confirm the lesson isn't progressing too fast for the student and to go over what has been covered. The whiteboard will also be used during sessions to note key points and explain through diagrams – a method that works very well in summarising complex processes, especially in the sciences. These techniques worked well for me and hope they do for you too!
Topic Expertise
GCSE and A-level Maths (Edexcel, AQA, OCR)
GCSE and A-level Biology (Edexcel, AQA)
GCSE Chemistry (Edexcel, AQA)
GCSE Mandarin (Edexcel)