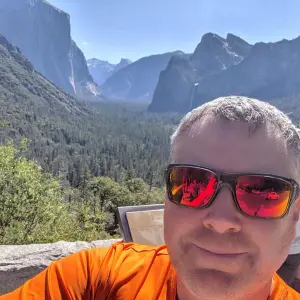 Online Computer Science Tutor Peter
Peter 5.0

64 classes
Cardiff University - Journalism, Film and Broadcasting - MA
Experienced school Computer Science and ICT teacher with a passion for technology. I love my subject and can help you love it too. I have worked in industry as well as education so I can help you understand concepts in context. I am highly qualified at a practical level so I know how to use the theory as well as teach it.
Recent Students:

3

Total Hours:

63

Last Online:

28 Mar 2023

All-time Students:

9

Total Classes:

65

Signed Up:

23 Jan 2022
About Me
I am a friendly tutor who is always understanding, good at explaining technical concepts and loves his subjects. I now spend my days building a hotel business in the Scottish highlands, going out cycling and kayaking with my teenage son and taking long walks with our dog, Wilson. I also build full stack web applications on a freelance basis, design technology solutions for local business and love to tinker, building various pieces of technology, usually with a raspberry pi in there somewhere.
Tutor Experience
I qualified as a teacher in 2005, but I had been running workshops and designing e-learning experiences well before that. I have only recently left full time education to open a hotel in the Scottish Highlands (life is very exciting now!), and this affords me the time to be able to tutor online. As with many others, lockdown forced me to adapt to more online teaching, though I have been an online tutor for many organisations outside teaching for many years.
Topic Expertise
I am most experienced in A-Level and GCSE Computer Science with all exam boards. I can help at University level too, but I prefer to stop at A-level (though I may end up teaching you degree level material as sometimes it helps to explain concepts better).

While I specialise in Computing, my education and work experience make me extremely useful in Business studies and Media studies too. I have worked at so many levels in industry and advised large businesses on transformation as well as written for some of the country's leading press.
Client Reviews
Excellent Ben loves these sessions
Claire

-
Computer Science
Ben really enjoyed the session and found it very helpful. He is excited to continue working with you.
Claire

-
Computer Science
Really good! Louis came away much more confident.
Clementine

-
Business Studies