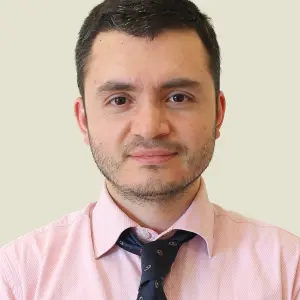 Online Computer Science Tutor Turgay
Turgay 5.0

64 classes
Middle East Technical University - Computer Education and Instructional Technology - BSc
As a highly experienced and motivated professional tutor with a BSc degree and over two decades of teaching experience at international schools, I am committed to helping my students achieve their goals and reach their full potential. With my extensive knowledge and expertise in education, I am confident in my ability to provide top-quality instruction and support for my students.
Recent Students:

2

Total Hours:

60

Last Online:

29 Mar 2023

All-time Students:

11

Total Classes:

66

Signed Up:

16 Nov 2021
About Me
I've always been fascinated by computers, and I knew I wanted to make a career out of it from the moment I wrote my first program in middle school. I pursued my passion for computer education and instructional technology at the university, and upon graduation, I began teaching A Level computer science at an international school. Over the years, I've gained extensive experience teaching IGCSE, A Level, and IB curriculum in computer science, ICT, and ITGS.

In addition to my teaching career, I've also had the opportunity to manage and lead a successful international computer project competition. Outside of work, I'm a father of two and recently developed a love for gardening. I try to spend as much time as possible in the great outdoors, enjoying the fresh air and sunshine.
Tutor Experience
As a passionate educator with over 20 years of experience teaching at international schools, I specialize in IGCSE, A, and IB level courses. I have received advanced training in Computer Science and ITGS at the IB Cat 2 level, and I believe that every student has their own unique path to success. That's why I offer private tuition tailored to each student's specific needs and schedule, ensuring they have the best opportunity to excel. I understand the busy and demanding schedules of both students and parents, and I do my best to accommodate them in my teaching style.
Topic Expertise
Subjects:
Computer Science
Computing
ICT
IT
ITGS

Courses:
Programming (Java, Python, C++, Swift)
Databases
Video/Audio Editing
Animation
Photo Editing
Advanced Office
Algorithms

Levels:
pre GCSE
GCSE | IGCSE
A Levels
IB