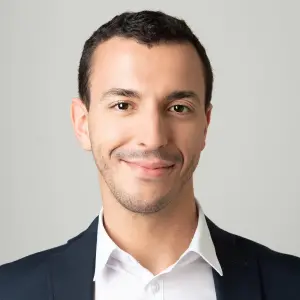 Online French Tutor SAMY
SAMY 5.0

646 classes
University of Artois - Teaching French as Foreign Language - MA
Boost your confidence with a qualified French native!
Recent Students:

8

Total Hours:

583

Last Online:

05 Feb 2023

All-time Students:

41

Total Classes:

647

Signed Up:

29 Oct 2018
About Me
**Free trial**
Bonjour ! My name is Samy. I hold a MA in French for Foreigners.

I teach younger students (IGCSE/A-Level), as well as adult learners.
A native French speaker, my accent is very standard, as spoken in Paris - which helps my students with Listening exams.

As a qualified teacher (QTS), I am very familiar with IGCSE/A-Level exam specifications, and I have helped many students reach excellent results (9/A* standards) at the City of London School for Boys ('14th Best School in the UK for A-Level' - Best-Schools.co.uk).

I am also experienced tutoring IB French B (HL/SL) with my international school students reaching 6/7 grades.

*How does it work?*
Before each lesson, I will let you know what we will cover.
At the beginning of each lesson, we will revise what we have covered before, so that you don't forget when life gets in the way.
At the end of each lesson, we will make plans on what to cover next.

I am very patient and encouraging. I want to build confidence.
However, I also like to challenge you to reach your best.
I do think confidence and motivation are key to the hard task that is learning a language, so I like to focus on your personal interests and identify your learning style, in order to keep your motivation alive.
I am very much focused on your short term/long term objectives. I want the language to stick, and help you reach your goals.

*FREE trial lesson*
During a FREE trial lesson, you can get a taste of my teaching style and see if that suits your needs. I can assess your level, and focus on improving the weak components, as well as using your strengths, in order to build confidence.
I will adapt to your needs.
Tutor Experience
IB - A level - IGCSE (Cambridge, Edexcel) - 13+ (Common Entrance)


⦁ At the City of London School for Boys, I have successfully taught pupils for IGCSE French and A level French who have gone on to both Oxford and Cambridge.
⦁ IB French Tutor online (French B - SL/HL, French Ab Initio)
⦁ I know of the academic excellence and high expectations of selective UK independent schools
⦁ I have extensive experience tutoring students from the most prestigious schools in and around London, among them:


- City of London School for Boys, where I have taught French IGCSE and French A-level
- Latymer Upper School
- St Marylebone School
- Dulwich College
- Eltham College
- Radley College
- Wisbech Grammar School
- Mill Hill School
- Roedan School
- King Edward VI School for Girls

and many more.


⦁ Due to my long tutoring experience, I know of the high expectations put on students. This is why I take pride in delivering top level tuition in every lesson.

⦁ I have learned that tailoring learning strategies to every student's skills - language skills, and/or analytical skills for IB and A level - significantly increase confidence and improve the chances to achieve his or her goals. This is how I can make a difference to my students' lives.
Topic Expertise
WHAT ARE MY SPECIALTIES?

In short:

- IB French
- A level French
- IGCSE French (Cambridge, Edexcel)
- 13+ French

---

In more detail:

⦁ IB French subjects: IB MYP, IB Diploma Programme / IB French B (SL or HL) / IB French Ab Initio
⦁ All UK exam boards: AQA, Edexcel, Cambridge (CIE), Eduqas
⦁ ISEB Common Entrance (CE) French examinations at 13+ / French for CASE at 13+ (Scholarship)

⦁ Pushing students to reach their full potential, up to the top standards
(6-7 for IB/8-9 for IGCSE/A-A* for A-level)
⦁ Improving Listening Technique (underrated skill, especially for IB)
⦁ Building and boosting student confidence, especially for the Speaking and Writing part of the exams
⦁ Focus on exam technique and learning methods for better marks
⦁ Focus on grammar and language accuracy to reach top marks

⦁ For A2 Speaking: IRP and Speaking cards (topics and sub-topics on France and French speaking countries)
⦁ For A2 Writing: French Books and Movies (La Haine, Intouchables, Les Choristes / No et Moi, L'Étranger, Un Sac de Billes, Un Secret, etc.)

⦁ Adult professionals (conversational French with extensive feedback)
Client Reviews
c'est tres bien
Samuel

-
French
I cannot recommend Samy enough! He is an adaptable, patient, articulate and engaging teacher. He accommodated to my IB Diploma program needs and prepared me on such short notice for my exams. He elevated my conjugation, tense and general writing skills to a level I did not believe I was able to attain without his assistance. He taught writing techniques that even my school's French coordinator did not teach. Through his tutoring, I am now well-equipped with the necessary skills to confidently perform on my examinations. Initially, I was sitting on a predicted level 3 but through these lessons, I can say with ease I can attain a maximum level 6-7. I wish I had found Samy earlier :)
Gabriella

-
French
Class went great!
Sarah

-
French
Class was good! Samy's help was exactly what I needed to spot some errors in my translation.
Sarah

-
French
Very helpful and fun; I learned a lot!
Anna

-
French
very good
Anna

-
French
it was good
Zaynah Shariff

-
French
Excellent first lesson
Matthew

-
French
Very useful as always!
Alice

-
French
Very useful, very much appreciated!
Alice

-
French
Testimonials
"I had my listening exam today and it was great! everything was easy and i managed to answer all the questions. Thank you for helping me achieve the highest standards of my french for the exam. I really appreciate it. Couldn't have done it without you! I definitely enjoyed all of my lessons with you, they have really paid off. I have also learned to enjoy French more and I hope to study it further in the future. Again, thank you so much, H. - iGCSE Cambridge student - got a 9 grade
"Samy was a fantastic tutor for our son, always going above and beyond. He had an excellent knowledge of the curriculum and literature texts, was thorough, engaging and instrumental in boosting our son's confidence and helping him achieve the grade he required. I would recommend Samy highly." - Mother of an A level French student
"We hired Samy after trying two other tutors. He knows the IGCSE syllabus, was a fluent native speaker, was able to push my daughter academically, improved her use of the French language and her confidence. She was sitting IGCSE French 1 year early. She got a 9. Thank you Samy (my son is next)" - Father of an IGCSE Cambridge student