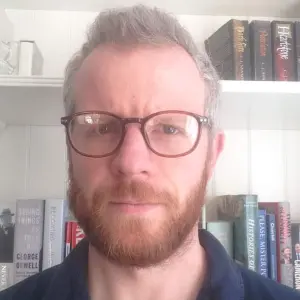 Online History Tutor James
James 5.0

70 classes
University of Leeds, BA History / University of Sussex, PGCE History Teaching - History - PGCE History Teaching
Experienced History teacher in IGCSE, GCSE, A-Level, and IB. I have a breadth of experience, of 12 years, in mentoring and teaching students how to work towards their academic aspirations.
Recent Students:

5

Total Hours:

66

Last Online:

26 May 2023

All-time Students:

5

Total Classes:

70

Signed Up:

15 Mar 2022
About Me
As well as my academic experience, I have held a pastoral leadership role, in which I supported students through their exam years of year 11 - 13. My pastoral experienced reinforced my belief that learning is not just about the acquisition of knowledge but also developing the confidence to fail, reflect, and learn. Learning is about personal growth and developing greater self awareness of your strengths and weaknesses. Tutoring is not only about the expertise of knowledge but also the understanding of how to encourage the best in someone and support them in persevering to overcome learning challenges and realise that they can succeed.
Tutor Experience
I have a breadth of teaching experience across 12 years, in the Independent sector, including KS3 History and Geography, GCSE and IGSCE History, A-level History and Politics, and IB Higher Level History.

Topic Expertise
IGCSE History Edexcel - China 1900 - 1989 / Germany 1918 - 1945 / Russia 1905 - 1924 / Civil Rights 1945 - 74 / Medicine Through Time
GCSE - International Relations 1919-39 / USA 1920 - 74 / Cold War

A-Level History AQA - Russia 1855 - 1964 / Unifcation of Germany / USA 1865 - 1975

A-Level Politics Edexcel - UK Politics / US Politics / Ideologies
Client Reviews
very good, straightforward and supports in-depth knowledge of key areas and is very helpful at developing your understanding of a subject
Ethan

-
History
Testimonials
I found James on Spires when looking for support for my daughter with her History A level. She had one particular area that she was struggling with and her mocks were looming . James responded to our search immediately even though it was just before Christmas and arranged a taster session then a clear plan for the next week for preparation for the mock exams. My daughter found the sessions extremely useful both during the sessions when James was a very engaging teacher but he also gave her study materials which she had found invaluable and marked essays for her. She feels much better prepared for her mocks and wants to continue sessions with James for her A levels . I would highly recommend James!
James has been an incredible help to me over the last few months. His sessions are engaging and well-tailored to meet individual needs. I particularly appreciated how efficient he was with his responses and marking, which is useful for exam preparation. Overall, he is a dedicated and enthusiastic tutor who shows true dedication to his students. I have only positive things to say about my sessions with James and I could not recommend him enough!
My son has been tutored by James for history and has been amazing. My son is in year 11 and was struggling with history, I have seen a great improvement over a short period of time and above all my son has found the lessons very useful. James is very committed and has structured lessons with great professionalism. James always informs you of the plan of action which provides you with a guide. He is also happy to mark work and provide feedback, this is essential when preparing for exams. I would definitely recommend James and my son would too. Raedah Khan