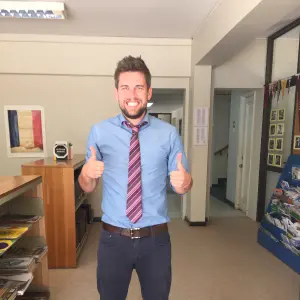 Online Humanities Tutor Josh
Josh 5.0

923 classes
University of Edinburgh - Humanities, Education - PGDE
International teacher of English, Business, Philosophy & Humanities, with a decade of experience teaching GCSE, A-Level and IB in international schools around the world. I am fully student-focused, with a history of success developing engaging and relevant classes to help students overcome their academic and study challenges. I believe in the values of patience and kindness in supportive academic relationships in order to develop student confidence and determination.
Recent Students:

8

Total Hours:

907

Last Online:

02 Dec 2022

All-time Students:

107

Total Classes:

923

Signed Up:

21 Jan 2021
About Me
During my teaching career I have worked at schools in Scotland, Slovakia, Egypt, Chile, Vietnam and South Korea, teaching and leading a diverse range of subjects such as English Lang & Lit, Philosophy/ToK, Business, and others. I have extensive experience teaching various curriculums - (i)GCSE, AS & A-Level, IB MYP/DP programs, and the Advanced Placement - and I know well the pitfalls and expectations of these courses and their assessments.

I currently hold full registration with the General Teaching Council of Scotland, and am qualified with a BA, PGDE and CELTA. Now I work online with students who wish to overcome their academic challenges and achieve their highest goals.
Tutor Experience
2020-present - Private online teacher of English, Business, Philosophy, Humanities (IGCSE, AS/A-Level, IB, AP, etc)
2019-2020 - Head of Business & Teacher of English, BESST Skola, Slovakia
2016-2019 - Head of Philosophy & Teacher of English, The Grange College, Chile
2015-2016 - Head of Humanities & Teacher of English, British School of Egypt, Egypt
2013-2015 - Teacher of English & IELTS, Various schools in South Korea and Vietnam
2012-2013 - Teacher of Philosophy, Perth Grammar School, Scotland
Topic Expertise
(i)GCSE, A-Level, IB MYP, IB DP, AP

English Language & Literature
Business Studies & Management
Philosophy & Theory of Knowledge
Education
Politics/Government
Sociology
Psychology
History
Geography

Client Reviews
Very useful for my business skills and so well explained
Perla

-
Business Studies
Very good and helpful, great explanation
Stefano

-
Business
He helped me in so many ways and I truly enjoy our lessons. I've learnt many new skills that I can also take into other subjects!
Angela

-
History
Mr. Josh helped me look through all of the topics I would need to know for my final exam and went through some concepts in the operations management unit in a way that was really fun and easy to understand. Thank you so much!
Trisha

-
Business Management
Very helpful and good
Stefano

-
Business
Excellent feedback given under time pressure. The feedback was really helpful!
Natalia

-
English
Clear help and guidance given
Rodrigo

-
Theory of Knowledge
Got an A in GPR!! Thanks Josh!
Paula

-
General Studies
There was some really good feedback that will help make my essay better
Seema

-
Theory of Knowledge
Fantastic and inspiring classes every time
Debbie

-
English Language
Testimonials
Hello sir - I got a 9 in English Lit and Lang!! - Faris, IGCSE English Lang & Lit
My teacher predicted me a 7 for the final predicted grades for the year!! - Vanessa, IB English Literature
Hi Josh, I have completed all my exams and I just wanted to say thank you for your support over the last few months. I really appreciated it! - Selina, A-Level Business
You gave me more emotional support than any of my teachers - this has really helped me stay calm these last few months before exams. Thank you! - A, IGCSE History
Hi! Hope you are well. I just wanted to say thank you so much for helping me with my business content as well as exam practice, the lessons were really beneficial for me. - Swaleha, A-Level Business
Hey Josh! I got a 9/10 for the TOK Essay!!! Thank you so much for your help - Daniel, IB Theory of Knowledge
Josh was a great teacher, and explained things very well. He was knowledgeable and provided plenty of space for my questions and input. My exam technique is much improved and I'll let you know how I do in my exams! - Cora, GCSE Religious Education & Psychology
I improved from a D to an A in Global Perspectives! Thanks Josh! - Martinha, A2 Global Perspectives, English Lit, Business, Psychology
Hi sir! Just wanted to update you on the Romeo and Juliet assignment. I just got back my mark last night and I got 26/30 :D I feel much more confident after I was done I was really happy! THANK YOU!!!! - Noor, iGCSE English Literature, Business
History 7 predicted! and TOK A predicted!!!!!! thank youuuuuuuu - Maria, IB History & ToK
Hi Josh, Rachel here. Tom (son) is back to school so wanted to quickly jump on and say a HUGE heartfelt thank you. You have been a lifesaver and total superstar. You gave Tom exactly what he needed -confidence, encouragement and fully focussed and targeted help. We are enormously grateful to you Josh. - Tom, IB History
Hi Mr. Josh, I hope life has been treating you well! I got the business test results back today and it was a 6 yay! - Trisha, IB Business and Management
JOSH OMG OMG OMG OMG I GOT AN A IM SO SO SO SO SO HAPPY - Ekaterina, IGCSE English Language & Literature