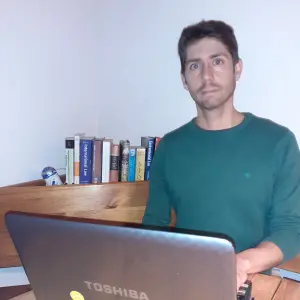 Online Law Tutor Nicolas
Nicolas 5.0

49 classes
University of Edinburgh - International Law - PhD
PhD in Law. I believe in the power of International Law to change the world and tackle global problems, so if you want to join us, I am more than happy to share my knowledge and help you to advance your career and achieve your goals.
Recent Students:

2

Total Hours:

38

Last Online:

03 Dec 2022

All-time Students:

12

Total Classes:

49

Signed Up:

03 Nov 2020
About Me
At the beginning of my studies, I had a simple plan: finish the Law School, help people, the end. However, during my Law studies in Chile, I discovered the power of International Law to promote changes that are often difficult to achieve due to domestic dynamics, and I decided to take this path. Following this, I got a scholarship from the University of Vienna to do my LLM in International Legal Studies and after some time working at an NGO, I decided to do my own contribution to the International Law field through my PhD. I also have work experience in international issues, including being involved in two cases before the International Court of Justice.

I really enjoy learning and I have taken several diplomas to expand my knowledge. I believe that curiosity and imagination are very important qualities and great motivators, and I try my best to help and inspire people. I am also interested in a variety of widely different topics, like history, astronomy, and science fiction, perhaps to compensate for my absolute inability to play any kind of musical instrument. Or sing.

I am convinced that it is not impossible to navigate the legal seas and have fun at the same time.

If needed, I can also my tutorials in Spanish, and I can also help with research proposals.


Tutor Experience
Teaching is not only about sharing knowledge, but also about inspiring people and assist them in building their own future. This is what guides me when I teach, making it a very rewarding activity that I love.
My professional and academic experience and qualifications allows me to work on a broad range of subjects in Public International Law, using real life cases and examples and being as creative as possible to help students understand difficult concept with ease.

I worked as a tutor during my PhD, doing Public International Law tutorials to undergrad students in person, marking written essays and providing feedback and one-on-one support. I also helped prospective students with their PhD research proposals and academic applications.
I have other teaching experiences, outside the legal sphere, that helped me refine certain important skills: I worked at the Museum on the Mound in Edinburgh doing workshop for school pupils about the evolution and use of money, and I also taught adults in impoverished areas in Chile to read and write, and basic math skills.
Topic Expertise
Public international Law in general, both at the undergrad and postgraduate levels, including topics like Law of the Sea, International Economic and Investment Law and International Organizations.
International Environmental Law.
Human Rights Law.
Indigenous peoples' rights under International Law.

Client Reviews
Nicolas can simplify complex concepts really easily and give concrete examples that help me grasp the material much better!
A

-
Law
Nicholas has a very well knowledge of the important topics in investment arbitration, such as the substantive protection standard. I understood the topics more accurately with his explanation. The review session was full of relevant and essential information, and he made it easier to accept.
Aeshah

-
Law
It was a wonderful class, and very lively reflection on legal argument and how best to address conflicting issues! Wonderful!
Andrew

-
Law
At this session, Nicholas was very good at simplifying investment arbitration topics. I felt that I have understood it more with his explanations.
Aeshah

-
Law
Price: $65-75/hr
No Upfront Payments
Passed Our Interview
Only Tutors Online
Background Checks
Verified
Qualifications
PhD in Law, University of Edinburgh, United Kingdom
LLM in International Legal Studies (highest distinction), University of Vienna, Austria
BA in Law and Social Sciences (distinction, BAR exam passed), Universidad de Concepcion, Chile

Diploma in International Environmental Governance (highest distinction), Kalliopi Koufa Foundation, Greece
Training Programme on Regional Ocean Governance for the Mediterranean, Black, Baltic and Caspian Seas, University of Malta and International Ocean Institute, Malta
Diploma in European Studies (highest distinction), Sommerhochschule University of Vienna, Austria
Diploma in European Studies, Deutscher Akademischer Austausch Dienst, Germany
Diploma in European Studies (highest distinction), Universidad de Concepcion, Jean Monnet Module, Chile
Availability
| | Weekdays | Weekends |
| --- | --- | --- |
| Morning | | |
| Afternoon | | |
| Evening | | |