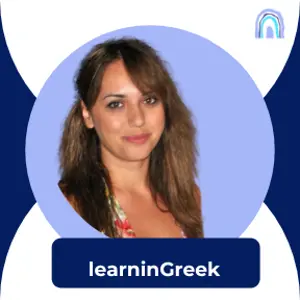 Online Greek Tutor
Filisia 5.0
National and Kapodistrian University of Athens - Teaching Greek as a Second/Foreign Language - Master's Degree
Speak Modern Greek to use with family, at work, for exams or your travelling by a qualified and very experienced Greek linguist
Recent Students:

0

Total Hours:

0

Last Online:

30 Jun 2022

All-time Students:

0

Total Classes:

0

Signed Up:

06 Apr 2021
About Me

Greek native linguist (Master's Degree) with 17 years of teaching experience.

I consider myself a very lucky person because I love my job very much! My passion is teaching and interacting with different cultures, so and I am very happy to have helped dozens of students to speak or improve their Greek, to have confidence when they speak with their family or when they visit Greece, and of course to succeed in exams.

My classes are all held online from my office's professional environment with a high-speed internet connection.
My lessons are communicative and include all skills, with emphasis on building up students' confidence in speaking.
I have a wide range of materials to choose from, including video, audio, flashcards, quizzes and many tech tools.
Tutor Experience
Since 2007 I have been working in teaching Greek as a second language and during the last 10 years, I have been tutoring people from all around the world exclusively online. I have worked basically with UK residents, but also students from Australia, the USA, Canada, Southern Africa, and Europe.

I have collaborated with NGOs and the University of Athens to teach multinational classes of 20 people.

Since 2017, I have been working online as a freelancer from my own office in Athens.
Topic Expertise
Emphasis on teaching all four skills of learning, bilingualism, Second language acquisition and second language teaching, Pragmatics, computer-assisted language learning, intercultural education