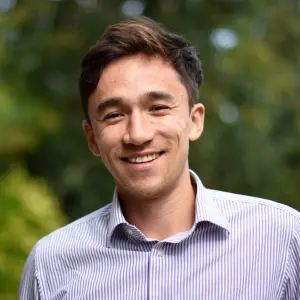 Online Business Management Tutor Bernard
Bernard 5.0

276 classes
University of Manchester - International Management - Second Upper Class
Experienced and qualified IB Business Management teacher in 7th Best IB school in the world.
Recent Students:

11

Total Hours:

263

Last Online:

25 May 2023

All-time Students:

29

Total Classes:

276

Signed Up:

10 Dec 2021
About Me
About me:
I'm now an Operational Delivery Lead for the Department for Education, supporting financial oversight of schools nationally. My department is accountable for £65billion of funding. A year ago, I was teaching at the best IB school in Oxford, replacing the IB Chief Deputy Examiner for Business as a direct successor. Before that, I taught at the 7th best IB school in the world, helping 100% of my students achieve a Level 7/A*. I now teach students as a hobby/part-time role out of a passion to help students achieve their dreams.

Some of my other interesting education roles include being a school governor for a secondary school in Oxford and being Curriculum Associate for Business Studies for all newly qualified teachers. This means I work in collaboration with University College London (UCL) to produce Business Studies content that new teachers will use to teach their classes :)

My style is very interactive and engaging- you will not be bored by my class. I can support you in the way you feel is necessary. Although there is no money-back guarantee, I come with confidence that I can help you achieve your best potential. If you're not feeling too confident with Business Management and you need someone to speak with to gain that confidence, speak with me - I am very friendly and easy-going. Within a few lessons and weeks, you'll feel more confident about how to tackle all assessments. Just see all the reviews below.

My best availabilities: Monday, Tuesday, Thursday and Friday from 6pm (GMT) until 10pm

See my short introductory video: https://www.loom.com/share/ab232e96545a405cad4c75c33a6e2e18

Tutor Experience
Teacher of eight years in four different schools: London, Valencia, Tokyo, Oxford
Teacher in the 7th Best IB school in the world
2021 results: 100% Level 7/A* results
Business Management Examiner
Governor at a secondary school in Oxford
A-Level Curriculum Associate for Business Education
Teach For All ambassador
Topic Expertise
All IB and A-Level Business Management units
IB Extended Essay
IB Business International Assessment
Finance
Client Reviews
For the past 1.5 years, I have been working with Bernard to improve my IB Business Management HL course performance. He has provided honest feedback for all practice questions, creating an environment for continuous improvement in achieving my personal goal. Bernard has helped me with my Business EE and HL IA, building confidence in my writing skills and understanding the demands of the course. I am really happy to work with him. Thank you.
Polina

-
Business Management
Bernard was really specific and helpful with my IA. We went over the whole thing in an hour and he gave me exact and specific changes to make in order to improve it within my given time frame. Would definitely recommend for any IB students taking Business Management.
Esmee

-
Business Management
Bernard is an excellent teacher. He greatly aided me in my IA preparation.
Joy

-
Business Management
helpful in teaching writing techniques using peel paragraphs
Van

-
Business Management
I wish I had found Bernard earlier! Bernard and I spent two weeks to prepare me for my M22 business exam. He was extremely patient, friendly and understanding to my situation. He provided me with top-notch approaches, techniques and skills I could extrapolate for my exams. He continuously supplemented my learning by giving me additional resources to work on in-between lessons and to further prepare me for my exams. Every lesson was something different, with different topics to break down and conceptualize. His lessons are lively and always engaging. He is a lifesaver!
Gabriella

-
Business Management
Excellent teacher, really good at explaining things and helped me alot.
Van

-
Business Management
Tutoring with Bernard was honestly a great experience, it felt like I entered as someone who was very weak and unsure about most things and now i feel super confident and proud of all the quality work i can produce. The teaching style was perfectly suited for me and i honestly could not have asked for anything better. Thank you so much for all the amazing lessons!
Ogil

-
Business Management
Excellent Business Management tutor with a very good knowledge of the course. He's easy to talk to and gives constructive feedback. He has helped me immensely with my business IA. Would highly recommend him.
Rohit

-
Business Management
Bernard has helped me so much with my Business Management IA that I had to complete in a very short period of time. He helped me with his knowledge and critical skills, being pleasant and patient. He's also very flexible with timing. I am extremely thankful for his guidance through this process and I highly recommend him!
Costanza

-
Business Management
The lesson was extremely helpful and we managed to go through multiple concepts in a limited time frame!
Costanza

-
Business Management
Testimonials
Hey Bernard, I hope you are well. I got my results today, and just wanted to let you know that I got a 7 in business. I want to thank you once again for all your help with the IA and the paper 1 preparation. July 2022
Dear Bernard, I hope you're having a great summer so far. I'm still shocked from the results today. I got a 7 for business... I do not know how did I do it, as in my head it was just a dream that I could never achieve. But I just wanted to say a big big thank you for this year and for all the work you've done. I am extremely grateful for explaining me the balance sheet 100 times as I can finally see the result of understanding it:) Thank you!!!!!!😊 July 2022
Hey Bernard, I just got my scores back and I wanted to personally thank you for your support throughout BM! I was so happy when I saw I was able to get a 7 in BM. I hope you have a great summer. July 2022
Hi Bernard, This is XXX from XXX. I saw I got a 7 for Business! It was not even a low 7, I'm sure my IA helped boost the overall grade. I wanted to say thank you for always keep encouraging me to finalise my IA, as I was stressed about my data and had to redo almost all of it, but you guided me through the whole journey. It was a hard time but I guess it paid off. It has been an amazing experience to be your student for the second year, the best business teacher EVER. July 2022