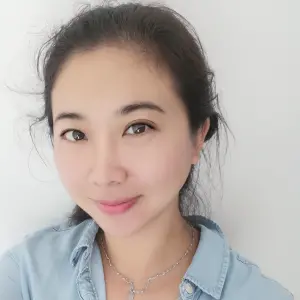 Online Tutor Dr. Zhuo
Dr. Zhuo 4.6

528 classes
Salford University - PhD in Translation Studies - PhD in the field of Linguistics (Chinese and English language and culture)
23 years of TCFL and TEFL teaching experience in university; over 10 years of teaching all level Chinese in the UK (GCSE;IGCSE (0509&0547);A-Level, Pre-U, IB,HSK, Chinese literature and Classical texts);Holding the national certificate of Standard Mandarin Speaking (A*)(issued by China Education Bureau), Native speaker of Mandarin. Over 8 years' supervising experience in MA & PhD Translation Studies, Education Studies.
Recent Students:

9

Total Hours:

634

Last Online:

07 Jun 2023

All-time Students:

20

Total Classes:

528

Signed Up:

18 Sep 2019
About Me
I have a PhD Degree in Translation Studies and MA Degree in TEFL.
I have 22Years' teaching experience as a University language tutor in English and Chinese.
I have 11 years' experience of teaching Mandarin in the UK in all levels.

Tutor Experience
When you are looking for a language teacher, you may see the following key points:
1. Native speaker of Mandarin ( I am holding Chinese National Certificate of Standard Mandarin speaking (A*);
2. Majored in Linguistics (Translation Studies);
3. Highest Degree in Linguistics and Social Media Studies;
4. Practical experience as a teacher, an examiner and a marker;
5. Professional teacher (I am holding the Higher Education Teaching Certificate (only 14% university teachers who have the certificate and the PhD degree at the same time in China) .
With solid foundation of literature knowledge, applied writing skills, and cultural awareness, I can not only teach you "what" knowledge but also explain you "why"and "how" knowledge.
current teaching:
Chinese/Mandarin GCSE, IGCSE(0509;0547), ALEVEL, IB, PRE-U, and HSK1-5, Chinese Literature;
Teacher Training Course

CV:
I have experience of being GCSE (Chinese , Mandarin) and IB (Chinese, Mandarin) oral exam Examiner.
I have over 23 years' teaching experience in universities (both in China and the UK). The main jobs I am doing are teaching TEFL courses, TCFL courses (students are adults students and mainly start from 0 level), Translation Studies, and supervising students in MA Education, Translation Studies, and Journalism as their MA supervisor. Since 2017, I also supervise PhD students in Translation Studies as well. I left my beloved working university because I need to move to London with my family. From 2013-2015, during my PhD research study period, I taught in the University of Salford, the main courses I taught were Chinese Language and Culture as well as the MA course of Business Conference Interpretation. Since the university closed the school of Languages, I could not go on teaching there. Luckily, I can teach via Spires now, can go on helping the young people to make their learning target and pursuit their dreams.

Topic Expertise
Teaching Chinese/Mandarin GCSE, IGCSE,ALEVEL, IB, PRE-U, and HSK1-5
Teaching Chinese Literature (Classical articles in Ming Dynasty, Modern Literature works, famous poems in Ancient times)
Teaching Chinese students in preparing of IELTS, IB, AP Literature and Composition 
Supervising MA dissertation in Education ,Translation Studies.
Teacher Training Course (Theoretical and Practical Teaching skills and strategies) (Teaching Chinese as a Foreign Language); (making teaching plan, prepare the teaching materials, get to know the external examinations in the UK (GCSE, A-Level, Pre-U) as well as in other countries (IB, IGCSE), designing after school clubs, etc. )

Client Reviews
It would be better if we could do things at a faster pace.
David

-
Chinese
It would be better if we could do things a bit faster, overall very good class.
David

-
Chinese
Very good tutor.
Mahmoud

-
Education
Very kind, resourceful and helpful. Looking forward for next class.
Cindy

-
Chinese
金老师 is a very kind and resourceful tutor. Looking forward to next class.
Cindy

-
Chinese