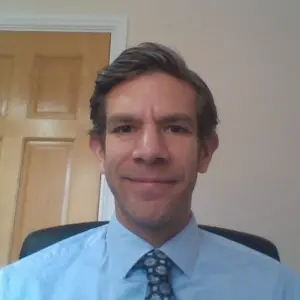 Online Tutor Ben
Ben 5.0

262 classes
Sheffield - 2-1 BA English Literature - PGCE (University of Bristol)
Highly experienced teacher in the UK independent and international school sectors, including roles as Head of Department and Deputy Head of Department. Over a decade's worth of experience of teaching virtually all exam boards, including those for GCSE, IGCSE, A-levels and the IB.
Recent Students:

8

Total Hours:

256

Last Online:

30 May 2023

All-time Students:

28

Total Classes:

262

Signed Up:

29 Sep 2020
About Me
I live with my family near Oundle (Northamptonshire) in England. Outside of my passion for English Literature, my hobbies include long-distance running, keeping fit, playing the piano, hill walking and visiting the theatre.
Tutor Experience
I have been teaching English Literature and English Language in UK independent and and international schools for 13 years, involving whole class and one-to-one tutoring at all levels from 11-18 (Key Stage 3, GCSE/IGCSE and A-level/IB. My teaching roles have included Head of Department and Assistant Head of Department at prestigious independent schools.
Topic Expertise
Having studied the subject to degree level and taught in 11-18 independent schools for well over a decade, my expertise of texts, topics and exam boards is very wide-ranging. At A-level I have taught all elements of many courses, including coursework and exam preparation for multiple papers. I have taught SL and HL level IB, with pupils achieving level 7. As an indication of my most recent teaching role, I have been delivering A-level schemes of work on Ibsen (A Doll's House), Christina Rossetti, Chaucer (The Merchant's Tale), Shakespeare's 'Richard III', 'On Chesil Beach' (McEwan), and Williams' 'A Streetcar Named Desire'. I have also been teaching all units of the Edexcel IGCSE specification. However, during the course of my career to date (13 years so far) I have covered a substantial range of texts and exam specifications.
Client Reviews
A great session that really helped my son's confidence
Cheryl

-
English Literature
I loved the lesson I had today! He gives me appropriate feedback which helps me to improve on my writing and he is really patient. I am looking forward to learning more with him!
maki

-
English Language
Very good
Fabia

-
English Language
Testimonials
Ben helped me with my final preparations for my English literature and language GCES exams. I was struggling to know how to revise and was getting in a panic about how to approach them. Ben was so helpful and taught me how to tackle each section. I enjoyed the sessions and felt comfortable asking any questions. I went into the exam feeling calm and prepared and did much better than I thought I would. I would really recommend Ben to help if you are struggling. (Year 11 Student)
Ben stepped in at the 11th hour to help my daughter who has dyslexia to prepare for her English literature and language exams. She was struggling with the anthology, unseen poetry and speech writing. Ben was able to breaks things down in to manageable chunks and provide Izzy with the tools to tackle these elements. He built up her confidence enormously and she found the sessions so reassuring. In the end she passed her exams with an 8 in both literature and language! (Parent of year 11 student)
It was my pleasure to teach with Ben in the same English Department for three years. He was an excellent colleague in every way: efficient, intelligent, entirely reliable and trustworthy with an excellent sense of humour. He engaged his students in imaginative and intellectually challenging ways and showed one hundred per cent commitment to their learning. He has a great knowledge of and passion for literature and language. He also taught both my own children and I can think of no stronger recommendation than to say that I would be delighted for him to do so again.
Mr Ben Wall is an outstanding teacher: utterly professional, scholarly and conscientious. He is kind, caring and popular with students who respect him immensely. Students would be lucky to be taught by Mr Wall. I would recommend him without hesitation.
'Ben is a superb teacher, who left us because of the long commute to work. He was well respected by staff and pupils, taught excellent lessons and his pupils achieved outstanding outcomes.'