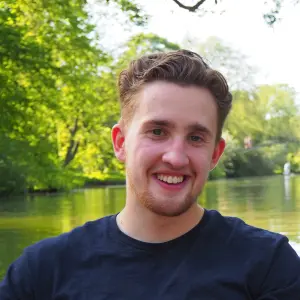 Online History Tutor Erik
Erik 5.0

70 classes
Oxford University - History - Degree
Oxford History Graduate currently studying an MPhil in Modern Chinese Studies with experience in tutoring History A-Level and University Admissions, as well as GCSE Geography, English and Maths.
Recent Students:

8

Total Hours:

71

Last Online:

31 May 2023

All-time Students:

14

Total Classes:

70

Signed Up:

26 Jun 2022
About Me
In 2019 I joined the University of Oxford, reading History BA where I have since been awarded two academic exhibitions for performing at the level of a first, in years one and two. I have just finished my University Exams and was recently accepted onto the highly competitive MPhil Course in Modern Chinese Studies at the University of Oxford. Recently I had a piece of analysis on Christianity in China published by the parliamentary think tank, the China Research Group (CRG) who shared my analysis with MPs.

I am from North Lincolnshire, and have previously played Football for the County. I support Grimsby Town Football Club, and have a great passion for live music. I am Grade 5 in Guitar. I was also Head Boy at my Sixth Form.
Tutor Experience
I have tutored GCSE History for a total of between 15 and 20 hours in small classes of 4-5 people. These lessons were student-led addressing their concerns and focussed mainly on improving the skills required for answering exam questions and offering insights into how to access the top tier marks. This involved me translating information from the examiner's report and mark scheme into a simpler and more readable guide for the students, which led to improved performance in exams. Particularly because it meant students gained appreciation for the various ways different styles of exams questions needed to be answered.

Alongside this I have also tutored students 1 on 1 for GCSE Geography and Maths who were aiming for the lower marks, aiming to achieve a pass in the exam. This meant I altered my teaching approach and in turn meant two-thirds of the students I mentored received or surpassed their target grade - mainly around the C bracket.

In addition, I have successfully mentored three students to gain places at Oxford University. This included 1 E/M Student and 2 History students. I mentored these students from August to January, helping them write their personal statement, prepare for the entry exam, and then finally practice interviews.
Topic Expertise
I have a lot of experience with AQA Exam Boards at both A-Level and GCSE having recently sat these papers as a students and tutored geography and history candidates for these papers at GCSE and A-Level last year. For instance when mentoring geography students for the AQA GCSE paper last year I translated information from the examiner's report and mark scheme into a simpler and more readable guide for the students, which led to improved performance in exams.

Over the last three years of study for my History degree I developed an interest in religious history and particularly questions concerning global religious change and conversion. This led me to complete a thesis which investigated how and why Christian and Muslim religious elites used theological aspects of their religion to shape positive memories of the Mongol Conquest. In my degree I have studied the following topics which proves a wide range of historical interest and a capability within the short Oxford eight week terms to learn new topics and gain a level of expertise which meant I could discuss and debate such topics with world leading tutors in these fields. I am happy to utilise this skill to learn in depth whichever topic the student is studying for their history degree, something which I have proven in past tutoring experience; for instance, I learned enough material in a two week period to help a student gain an A in a topic about the American Civil War, something I was not previously that familiar with.
- 'China since 1900'
- 'Reformations and Revolutions', 1500-1700 (British Isles),
- 'On the Road to Baghdad' (892-1055),
- 'Europe 1914-1989'.
- Disciplines of History
- Produced a thesis titled: 'Mongols, Memory and Religion: The construction of
societal narratives following mass killing'.
Client Reviews
Erik's explanation is clear and structured.
Zarina

-
Geography
A masterclass by Erik!
Rohit

-
History
Testimonials
Chiara Simpson-Gregory who I successfully tutored through the Oxford admissions process with her gaining a place from Oxford University to study History. "As a state school student who didn't know where to start with her Oxford application and was honestly intimidated by the application process, Erik not only managed to guide me through every stage, from discussing my personal statement with me for weeks to doing mock interviews in the days before my interview, but he made the sessions accessible and enjoyable. My favourite part was the fact he seemed genuinely invested in helping me get into Oxford and it did pay off, I received an offer from Brasenose college. He was so helpful in probably the most stressful period of time for me so far, not only as a tutor but as someone trustworthy and friendly enough to ask questions outside of university preparation and about life at Oxford, making me more excited about applying than scared!" Chiara (27th June 2022)