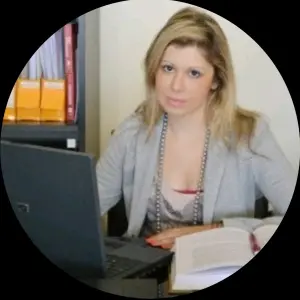 Online Law Tutor Katia
Katia 4.8

115 classes
Metropolitan University - LLM European and international law - Experienced tutor
Law lecturer and Lawyer
Ability to explain all legal situations in a simple manner
Recent Students:

3

Total Hours:

174

Last Online:

05 Feb 2023

All-time Students:

25

Total Classes:

117

Signed Up:

20 Oct 2020
About Me
Lawyer
Law lecturer for the past 9 years
LLB programmer leader

For the last couple of years I worked for many firms for GDPR purposes.
Have completed several seminars on GDPR

Get to know me:
Human rights enthusiast. Currenlty authoring a book on the Death Penalty, and would like to have more free time to finish that, however my multi-tasking life is very busy.
I am a lawywer, lecturer, tutor, wife, mother of a 4 year old girl, mother of a dog and have a books and coffeee addiction.
Tutor Experience
Over 2.000 hours of tutoring online and offline
Law lecturer since 2012 in College
LLB programmer leader since 2013 for a college in Greece which is a franchise for a UK university
Have taught Contract, Tort, Administrative, Constitutional, Land, Equity, Environmental, Family and Company law
Have supervised students in Dissertation and Assignments
Universities that have taught: UCL , Staffordshire University , Glyndwr University, Nottingham Trent University
Topic Expertise
Contract, Tort, Property and Equity Law
Client Reviews
Katia really helped me understand equity and trusts a lot better. Couldn't recommend a better tutor, thank you!
Nicole

-
Law
Katia is an excellent tutor. She is patient and explains things very well and in a clear, simplistic manner. Thank you Katia!
sabae

-
Law
Very helpful and informative
sim

-
Law
The class was really good and informative would definitely book it again.
Tasneem

-
Law
Testimonials
- Very frienldy lecturer - She makes even the harder law definitions look very easy to comprehend - She is excellent. She has all the qualifications as a teacher. She is very friendly, always willing to help and she manages to be efficient since with dedication and love for her work reveals that she wants her students to excel. She has helped me a lot in the learning process. I would highly recommend her-Christiana