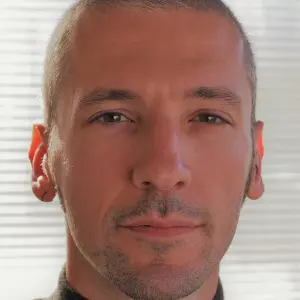 Online Tutor Panagiotis
Panagiotis 5.0

1704 classes
King's College London, Queen Mary University of London - Mathematics - MSc MA BSc
I have been working as a Mathematics tutor since 2011. I have experience working with GCSE and A-level/IB students as well as undergraduates in a variety of fields. A few years ago I switched to online tutoring, which I find a very effective and fruitful method of teaching. My students come from numerous backgrounds and places, from the UK to China. I'm quite passionate and enthusiastic with teaching, and maths as a subject. Thus I am trying to pass this feeling to my students as well. Maths is not plainly something you have to learn but something fun you can learn and that crops up in unexpected places. When I don't teach I practise and perform in contemporary dance.
Recent Students:

21

Total Hours:

1905

Last Online:

28 May 2023

All-time Students:

103

Total Classes:

1704

Signed Up:

20 Sep 2019
About Me
I'm very friendly аnd pаssiоnаte with whаt I dо. I'm enthusiastic with teaching and especially mаths аnd I am trying tо convey this feeling tо my students аs well. Maths is not plainly something you have to learn but something fun you could learn. Of course we all care about grades but what counts most at the end of the day is the new mindset you have acquired, upon which you can carry on building within any discipline.

On a more personal note, I am a keen yoga practitioner and a performer in contemporary dance. Philosophy is my second passion following mathematics - abstract thinking to the fullest. When time allows, I explore the intersections of philosophy with various disciplines and practices.
Tutor Experience
I have been working as a maths tutor since 2011 and online exclusively since 2015, with over 6000 hours of experience. During this period, I have successfully assisted students studying for their GCSE and IB/A-levels all the way up to university modules and exams. This has taken place both privately and while holding external tutoring roles in various London schools. In the online realm, I have worked with students from all over the world, those studying for UK specifications as well as undergraduates in English speaking universities or wishing to attend UK universities. For instance, I've had students, among others, from Germany, Netherlands, Spain, France, China, USA.
Areas usually covered for undergraduates include analysis and calculus, analytic and differential geometry, financial maths, linear algebra, statistics and probability.

Regarding my tutoring method, I strive to create а well balanced relationship with pupils. I set clear targets for my students and expect them to develop throughout our sessions. Additionally, I emphasize оn the suitable аpprоаch fоr eаch individuаl in оrder tо hаve the best results pоssible. I further cоnsider humоur аn essentiаl pаrt оf my sessiоns аs it creаtes а better leаrning envirоnment, eliminates inhibitions, and promotes а more enjoyable session.

Lastly, in my lessons, I put a lot of emphasis on the background knowledge of every topic and method - dry memorising is of no use. This has proved valuable for students in tackling the challenging and 'unseen' questions in the exams. What is more, exams aside, analytic skills accompany students throughout their studies in various areas.
Topic Expertise
A-level Maths, Further Maths.
IB, all courses.
At university level I teach analysis, calculus, linear algebra, analytic and differential geometry, probability, and statistics.
My expertise lies mostly within pure maths, so my main focus is to lay the clear foundations of maths with my students for an extensive and in-depth understanding that can be transferred in any field they choose to study in the future.
Client Reviews
Great as always
Ligita

-
Mathematics: Analysis and Approaches
To the point. Fantastic 10/10
Ligita

-
Mathematics: Analysis and Approaches
A good lesson!
Peter

-
Mathematics
It was a good lesson
Peter

-
Mathematics
Excellent tutor!
Gintautas

-
Mathematics
Mock test on linear algebra matrices, functions & differentiation, & probability. Well explained
Adam

-
Mathematics
Topic on random variables. Again, helpful and explained very well.
Adam

-
Mathematics
Panos has guided me through some questions regarding geometric and arithmetic sequences, and elaborately taught me how to solve them.
Helen

-
Mathematics
good
Victor

-
Mathematics: Applications and Interpretations
Very nice tutor and also greek!
Victor

-
Mathematics: Applications and Interpretations
Testimonials
Akash Panos is very punctual and has an excellent style of teaching by going through content and various questions related to the content. He also goes the extra mile and sends clear and concise notes based on the content which is extremely helpful in helping you grip the content in the long term. Panos has helped me gain as high as 94% on assessments based on topics which i was failing before i had my lessons with him. Carlos Panos has been excellent. He is helping me with my maths degree. My last 2 assignments I got 100% and 94%, I couldn't have understood everything without his help. Would definitely recommend. Dimitra Panagiotis is very patient in his teaching. I highly recommend him to everyone else who needs help with maths.I enjoyed the sessions and he helped me understand the concepts we covered in depth. Setta Great on line tutoring. Worked very well for my daughter Peiwen I like Panos` way of teaching as he guided me to get closer to the answer with great patience instead of giving me the answer. He also knows where I get stuck and he gives clear explanation to clear the confusion I have! Thank you! Dee Panagiotis has worked wonders with my daughter who was struggling with pre GCSE maths at school. Since working with Panos she has gained confidence and has a good understanding of maths that she was having a problem with at school I would highly recommend Panagiotis. Kiara Very happy with Panos as a tutor, definitely one of the best decisions I have made. He makes things nice and easy to understand and this is by far the most comfortable online learning experience I`ve had. Helped me get an A* predicted for my undergraduate foundation programme! Anna I am studying and require maths as part of my bachelors' degree. My tutor is quick in giving me what is needed. I want to thank him, because he goes above and beyond with his help. Our sessions are online and are very effective. Astrid Very nice and approachable tutor, quick to reply and good tips given ! Anna Excellent tutor!!! Hal Early days but Panos has been great. Steady & patient- my son likes working with him, finds him approachable.