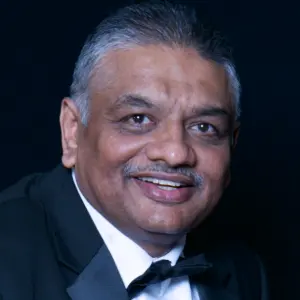 Online Mathematics Tutor DAK
DAK 5.0

2 classes
Newcastle University - Accounting and Finance - ACCA
I have over 35 years of teaching experience at all levels from age 10 to CEO's of multinational companies.
I am very professional in my presentation, techniques and approach within the training environment, as a result I became a known name in the field of Accountancy training.
Over the last 7 years I have helped students achieve their SAT's, 11 PLUS and GCSE and have obtained a 100% pass rate.

Recent Students:

0

Total Hours:

3

Last Online:

30 Mar 2022

All-time Students:

1

Total Classes:

2

Signed Up:

26 Feb 2021
About Me
I have been a principal and have run a major accountancy college with over 2000 students and managed a team of 150 staff.
In 1990 I completed my professional accountancy exams, Association of Chartered Certified Accountants (ACCA) and became a fellow member of ACCA in 1993.
In 2008 I was also awarded a fellow member of the Organisation for Tourism & Hospitality management (OTHM)
MY ACHIEVEMENTS for 2 years running in 2007 and 2008 I was listed as a member of the Presidential Who's Who in Professional and Business Achievers.
Also in 2008 I was Awarded Asian Achiever Award 2008 by Ed Balls the then MP for Health Care and Education Sector.

Tutor Experience
I have been in the education sector for over 35 years.
I have been an examiner for professional courses and have also marked professional exam papers for various institutes notable AAT and ACCA.
I am also author of 2 accountancy books and over the year have written numerous articles for various journals.
My many years of experience has made me realise that the main reason and a major factor why students do not succeed in their exams is due to lack of time management.
As a result my style, presentation and technique is unique and focused on improving my students current grades.
Topic Expertise
My areas of expertise are two fold Mathematics and notably Accountancy.
I focus on "A" Level Accounting, especially the financial accounting modules for AQA and over the past year I have helped many University students studying for their degree in Accounting and Finance.
I also specialise in training students for their Professional Accountancy Courses, focusing on the financial Reporting modules ONLY.
AAT,
CIMA,
ACCA and also conduct CPD training notable in IFRS
Client Reviews
Dak was very helpful, explained everything so well and ensured i understood the topic before ending the lesson.
Rachna

-
AAT
This lesson was very helpful, everything was explained in detail and Dak ensured i fully understood everything. The methods used was very simple and easy. He didn't rush me and was very patience if i asked to explain again. Thank you Dak for explaining these processes clearly. Will definitely recommend and use you again in the future. Thanks once again.
Rachna

-
AAT
Testimonials
Testimonies Dak has been my tutor for just under three years and I feel that I have greatly benefited from his teaching style. When Dak first started tutoring me, I had just moved up to higher set in Maths and I had found it extremely difficult to understand and keep up with the pace of the lesson. However, Dak customised our lessons to specifically target my need in order for me to expand my knowledge on areas of weakness. It is due to this I believe that I went from one of the bottom students in the class to the top third. The thing that made Dak such an excellent tutor was his multiple methods of teaching, as a student some concepts taught in school are simply impossible to grasp. Although Dak, took multiple approaches this should the methodology visually so that it was easily remembered. I personally want to thank Dak because I managed to achieve a grade 9 in my Maths Exam. Alyaa Warishaully ============================================================================================================================= Dak is a very thorough teacher. He prepared my eldest son for his 11+ and is now preparing my middle son for his 11+. Dak is great at reading the student and adjusting the lesson according to their needs. His notes are superb, and he is very committed to working through with the student to the end goal. Not all teachers are great at teaching content with exam techniques in the mind, but Dak is. He has been teaching for so long and has a great library of material to help his students learn the topic and apply it in a time conscious manner. If you want your child's grades to improve then I would highly recommend you consider Dak as a tutor for your child. Faiza Ashraf ================================================================================= "Professor Daks (as my son would refer to him) has a unique and calm approach to teaching. He has assisted my son with his English work for the past 18 months, particularly focusing on comprehension tasks. The approach he takes has involved providing my son a summary of the ground rules of the English language and then focusing on different types of comprehension exercises. This has enabled my son to gain the confidence to approach English comprehension assignments with a particular style that suits him, providing him with a set of valuable skills as he studies towards his 11+ exams." Parag Mehta