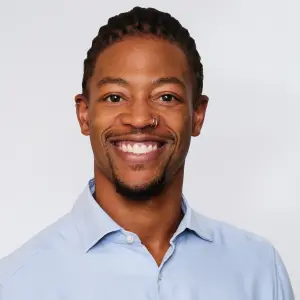 Online Tutor Omari
Omari 5.0

11 classes
Oxford - English & Spanish -
Recent Students:

0

Total Hours:

10

Last Online:

11 Apr 2023

All-time Students:

4

Total Classes:

11

Signed Up:

15 Sep 2020
About Me
After training and working as a broadcast journalist for two wonderful years at the BBC, I decided to take the leap in 2012 and go full-time as tutor. I love making a genuine difference in my students' education. As well as being an experienced tutor, I'm also trained as an Executive Functions Skills Coach, which means in terms of providing solutions for students and parents I'm not limited to helping my students with WHAT they have to learn, but also 'HOW' effectively they learn it. I'm also going to be training soon as a mindfulness coach for children, so that I can also help them with reach their maximum potential. I have several hobbies, the main one being dance. I active member of the London School of Samba, Europe's oldest Brazilian samba school and I do regular performances with them, which I love.
Tutor Experience
I have over nine years' tutoring experience, as a full-time professional. I've been teaching students online since 2013 and altogether with online and face-to-face I've delivered well over 3000 hours of individual and group classes to more than 150 national and international pupils. I have wide experience teaching all ages, all Key Stages and the full range of exam boards at GCSE, A Level an IB. I've taught several pupils as part of bespoke homeschooling programmes and that includes students following the US curriculum. Every year I prepare a handful of students for Oxbridge and I've had lots of success, having students get in first time and others get in after trying once without tuition and then coming me and getting in the second time round.

I've had truly excellent results at all ages and have helped students both set and exceed their own personal goals. Pupils of mine have gone to Westminster, St Pauls, Eton, Harrow on scholarship, Latymer, KCS Wimbledon, NLGC, Frances Holland, etc. And I've built some wonderful working relationships with both the students and the parents along the way.
Topic Expertise
English Literature and Language from primary to Undergraduate Level, including all secondary examination types (A Level, Pre-U and IB Higher and Standard, inc. Extended Essay)

Spanish to Undergraduate Level, including all secondary examination types (A Level, Pre-U and IB Higher and Standard)

Maths from Years 2-9

7+, 8+ 11+ and 13+ entrance exams.

Verbal Reasoning up to Year 11

Non-Verbal Reasoning up to Year 11

Critical Thinking

Interview Practice

Liberal Studies

TSA and MLAT Oxbridge entrance exams

Personal Statement


Testimonials
As a professional dedicated to the social-emotional well-being of children, I am very excited for Omari to share his unique educational process with the world. As a mother who was graced with his gifts as a tutor for my son, I can attest that his approach works! He instilled a true love of learning in my son and created a space where we could meet his homework challenges with joy. What a gift!" – Samantha Kurtzman-Counter, president of The Mother Company talking about my first book, The Secret to Happy Homework I've just received an A* in my Spanish GCSE, which I'm so happy with!! I lost 2 marks out of 240 for my speaking and writing which you helped me with, and As in my reading and listening which is solid. That's definitely exceeded all expectations and I can't thank you enough for helping me out over the past year. ~ Will, GCSE Spanish It's another clean sweep! Leila got into all her schools and she got the academic scholarship to St. Paul's. She's going to join Emily there (Em still talks about her lessons with you by the way!) Thank you for all your work. ~ Jasmine, mother of Leila and Emily, 11+ St Paul's Felix was super pumped about seeing you today. He said it was great session too. Love idea of going to see Death of a Salesman. Let's definitely arrange it and I told Felix he can take you out to dinner too! ~ Virginia, mother of Felix, 11+ English and Maths Konrad really enjoyed his lesson with you today. He always asks when you're coming back again. He really looks up to you. It'd be great if you could have a talk to him about his concentration in school. ~ Mary, mother of Konrad, 11+ English and Maths It is very, very easy to recommend you as you are truly inspirational! ~ Beth, mother of twins Georgia and India, GCSE English