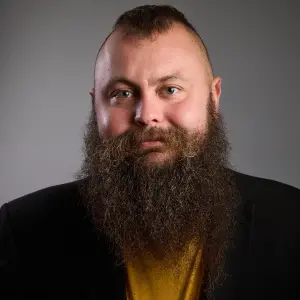 Online Spanish Tutor Rhys
Rhys 5.0

316 classes
University of Oxford - Modern Languages (Spanish) with Linguistics - BA
Approachable and (hopefully) knowledgeable Modern Languages and Linguistics expert, with an informal style.
Recent Students:

5

Total Hours:

339

Last Online:

09 Jun 2023

All-time Students:

24

Total Classes:

316

Signed Up:

08 Jan 2019
About Me
I am a 32-year old tutor and languages nerd living in Oxfordshire. I'm lucky that the subjects I deal with are inherently interesting, and hope to be able to pass this interest on to students.

Every linguist has a "pet" language or two. Mine are modern Icelandic and Old Norse. Beyond tutoring, I love hiking, cooking, and snooker (even though I'm hopeless at it).
Tutor Experience
Tutoring has been my main job since 2012, and I have at least 1000 hours of teaching experience (though I have lost count!). This has been a mix of one-on-one tuition, as well as running Spanish lessons for small groups at a holiday revision school, as well as Oxbridge-focussed events open to schools and to the public. This has been both in-person and online.

I began tutoring with a focus on Oxbridge admissions, but since then have expanded my range of levels for Spanish in particular. This has covered all the main UK exam boards, as well as international qualifications such as the IB, IGCSE, Cambridge Pre-U and occasionally the American SAT - all for Spanish.

Online teaching is an unusual medium - both distant and intimate at once. I take a relatively informal and friendly approach to teaching. I do not like to use the word "lesson", preferring instead "meeting" or session" - we are more like colleagues, working towards a joint goal. But "informal" does not mean soft! I have high expectations of my students (especially Oxbridge applicants), and aim for them to work at their best.
Topic Expertise
SPANISH: I have been teaching this language for a little over eight years. There is always something new to explore, and something interesting or unusual to discuss. For A-Level students, I am a keen reader and always look forward to analysing a text or film with students. I am also a grammar nerd, and hope that I can provide a good overview of the mechanics of how Spanish works. I have covered many different specifications and exam boards including:

- AQA / Edexcel GCSE Spanish
- Edexcel / CIE ICGSE Spanish
- Edexcel / AQA A-Level Spanish
- Pre-U Spanish
- IB Spanish B

OXBRIDGE: For Oxbridge admissions, I have 10 years' experience guiding students through every step of the process (personal statement, admissions tests, interviews) for Modern Languages, Linguistics, and some other courses. I regularly work at Oxbridge-focussed school and public events, both in person and online. Many of my students have gone on to study languages or Linguistics at Oxford, Cambridge, or other top-flight universities in the English-speaking world.
Client Reviews
Rhys helped my daughter to level up ahead of an Oxford University entrance interview for Spanish. She greatly improved her understanding of Spanish, key topics relating to the Spanish speaking world and her comprehension of Spanish poetry & literature. Highly recommended.
Steve

-
Oxbridge Entrance
It was an absolute pleasure working with you and I honestly cannot thank you enough for the invaluable lessons we've had and everything I have learned. You're an amazing teacher and I'm so glad we had the chance to meet!
Cecile

-
MLAT
My daughter has absolutely loved her lessons with Rhys. She has found him incredibly useful and comes out buzzing from her lessons.
Carol

-
Spanish
Really useful, thank you
Becca

-
Spanish
Very helpful in preparing for my Spanish speaking exam
JAY

-
Spanish
Rhys is amazing! Incredibly personalised lessons! Very useful strategies and advice for exams combined with incredibly interesting insights into all things Spanish language and culture. THANK YOU RHYS!!!!!
Duncan

-
Spanish
Completely fantastic in every way as usual - I have had 18 sessions with Rhys now - very personalised, well thought out, fascinating and useful as always. My Spanish is so, so much better, and I love the language more than ever
Duncan

-
Spanish
Rhys is really friendly and has been helpful in making me feel more confident about taking the LAT. Lessons are prepared well in advance and have always been fun!
Elenor

-
MLAT
Thank you so much for the helping me on my MLAT. Sessions with you have been really helpful in my preparation :)
Amelie

-
MLAT
Testimonials
"For my speaking exam I got a Distinction and for my overall Spanish grade I got an 8 which I am over the moon about especially as two years ago I thought I would barely scrape a pass in Spanish. Thank you so much for all your help, you made me understand and enjoy Spanish so much more and without you I definitely wouldn't have got the grades I got. For the rest of my subjects I got 8s and 9s which I'm really pleased with and will allow me to go to my first choice Sixth Form College." - FE, GCSE Spanish, 2021
"I wanted to thank you for the wonderful work you have done with [student]. She used to be scared of the subject before she started working with you, but your help has allowed her to tackle her GCSE with much confidence." - JM, Cambridge IGCSE Spanish, 2021
"I did a number of sessions with Rhys in the run up to my Oxford Spanish interview. His lessons were very useful in preparing me to tackle the interview. We worked on how to approach passages I may be presented with, the Spanish spoken section in the language as well as personal statement discussions. He is willing and happy to tailor his sessions to your personal requirements and adapt as necessary. In addition, if you do not know exactly what you are looking for but know you need help improving, he has a good idea from experience of what may help you so can work with you to create a structure that will benefit you. I always felt that he had prepared for our lessons and was very engaged with his tutoring. I would very much recommend him as a tutor if you too are preparing for Oxbridge entrance, and am certain that he would demonstrate these skills and be an excellent tutor in his other specialisms too. I can certainly say that my ability to approach and succeed in the Oxbridge entrance improved due to Rhys' tutoring- evidenced in my offer to study at the university." - SC, Oxbridge Admissions, 2021
"I started lessons with Rhys in September 2020 in preparation for the LAT section of the Oxford MLAT exam in November. All lessons were well-prepared, interesting and lots of fun. With each lesson I felt more confident about the exam and was fascinated by Rhys' wider knowledge of languages and linguistics. For example, we studied Welsh, Basque and even the constructed language of Esperanto in order to make me more familiar with grammatical structures that may come up in the exam. Rhys was supportive throughout the entire application process and I would definitely recommend contacting him for help with the MLAT." - VE, Oxbridge Admissions, 2021
"Rhys taught me for a little over a month during the pandemic and my improvement over that time was astounding. He is a very friendly person and knows how to make his students feel enthusiastic about learning Spanish. He is also extremely professional in his preparation and always details his lessons towards what you need to know to be successful." - AA, International Baccalaureate Spanish, 2020
"Rhys is an extremely helpful tutor, despite my assignment being last minute he still managed to help me in every way possible! Would recommend to everyone! :)" - TM, Linguistics, 2020
"Rhys was my tutor for the LAT, and I could not recommend him enough! He got to know me and the areas that I wanted to work on in our first free consultation, and afterwards we worked on the basis of me completing preps and past papers before our lessons and then going through them in the lesson time as well as other exercises. For me this was the perfect format, as Rhys has an incredible amount of resources for me to practice on and have a very hands on approach, as well as knowledge in order to for me to consolidate my learning. I would recommend Rhys as well for being incredibly understanding and adaptable- he answered my emails at any time and very promptly, or was willing to change lesson times even at short notice. He was also so friendly and we had fun in our lessons outside of working through LATs." - CJ, Oxbridge Admissions, 2020