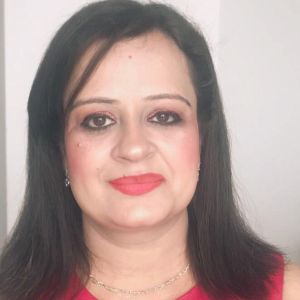 Online Tutor
RUCHI
Indraprastha university , India - M.Sc. - Masters of Science and B.Ed & IB/CIE examiner
4.9
Experience and diligence are the key consistencies of a successful teacher, both of which I have taken the effort of acquiring over more than 15 years of my high-yielding teaching career. I am an IB EXAMINER (BILIOGY AND IAs) for the past 8 years and a CIE EXAMINER (BILOGY) for the last 3 years. My specialization lies in Biology, ESS and Chemistry from GCSE to A/IB levels however, my experience is synonymous across the educational board as I also guide students in writing their Personal Statements and essay assignments for university .

As previously mentioned, I have a consistent experience in guiding university and A level assignments for various subjects ie. Science and various social sciences. I find my teaching to transcend the synthetic geographical borders and time zones, having taught from Dubai and Malaysia, to the US, India as well as the UK. With my vast, and still every-growing, experience of teaching hundreds of students online and in person, I've sufficiently grasped the ability to get across challenging content and achieve measurable results.

I would be more than obliged to be contacted for any of your teaching/writing needs and further discuss availability.

Recent Students:

31

Total Hours:

272

Last Online:

18 Jan 2021

All-time Students:

52

Total Classes:

214

Signed Up:

19 Feb 2020
Client Reviews
Kerem - Biology
Very productive
Dominika - Biology
Great feedback for Biology IA, specific, organised, a lot of useful knowledge for an HL student
Adriana - Biology
Very good and clear explanations, easy to understand
Kim Louise - Biology
The class was extremely helpful !!
Kim Louise - Biology
The class was extremely helpful !! Ruchi helped me a lot with my Biology IA!!
Harry - Biology
VERY HELPFUL AND INFORMATIVE
Noah - Biology
Great class!
Juliet - Biology
Really great lesson as always. I think I will be able to get my EE done a week before the actual due date, which is really great!!
Noah - Biology
Great class!
Lily - Biology
Ruchi gave me good feedback that will help me correct my IA