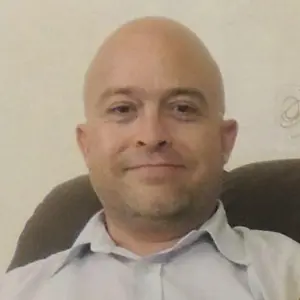 Online English Tutor
Alex 5.0

59 classes
Universities of East Anglia, Kent and Greenwich - English Literature - PhD
Very experienced and fully qualified English teacher and former examiner. Over the last 20 years, I have taught in the classroom, online and as a face-to-face tutor. I have taught from as young as Yr5 to undergraduate and adult level.
Recent Students:

2

Total Hours:

60

Last Online:

21 Aug 2022

All-time Students:

10

Total Classes:

59

Signed Up:

17 Mar 2021
About Me
I am a family man in my fifties who is passionate about English language and literature and the job I do. I went to a normal comprehensive school in Essex and worked my way up to obtain a PhD and, afterwards, qualify as a teacher.

I have many interests, including theatre, art and a wide range of music . I am always interested in learning new skills and acquiring knowledge. In fact, I believe education never really stops.

One of the many things I enjoy about teaching is trying to inspire students, unlocking their creativity and building their confidence in what they already know. I value being a tiny part of their journey to realise their true potential and encourage them to constantly seek out fresh perspectives from which to look at life.
Tutor Experience
Three years ago, I began coaching and tutoring small groups of students in both GCSE English language and literature during weekends and school holiday periods. Since March 2020, I now tutor students from Yr 7-13 and EAL students online on a full-time basis.
From September 2015 - February 2020, as well as online and small group tutoring, I worked in a wide range of schools and other educational settings as a specialist English teacher across Essex, Thurrock, Havering and the Herts border on a range of termly assignments. I taught English language and literature from KS3-KS5 – with full involvement in assessment and lesson preparation.
From June 2008 – June 2018, I worked as an Examiner for AQA English Language GCSE. My Examiner Performance consistently rated Grade A (Excellent)
From September 2002 – September 2015, I was an English teacher and personal tutor at a Sixth Form college in Essex. I taught GCSE English language, Functional Skills (Level 1 & 2), & A level English language, and literature and from September 2012 – September 2015, I was Joint Curriculum Manager for GCSE English and Functional Skills. I had joint responsibility for managing and co-ordinating the administration and teaching activity for 16 GCSE classes. In 2014-15, the college achieved pass rates above the national average. In both my GCSE and A level classes, I had a consistently strong record of results.
My doctorate in English Literature means that I have experience of university lecturing and have spent a great deal of time over the years successfully mentoring and advising undergraduates on dissertations and other coursework assignments.
Topic Expertise
Examiner for AQA for 10 years
Teacher of GCSE and A level English Language and/or literature for 19 years - experience of all exam boards.
Experience coaching students in KS2 MATHS & English (11+)
Teacher of KS3 English for 6 years
PhD in English Literature
Can mentor and advise degree or MA students writing dissertations
Can advise all students on effective study skills
Client Reviews
Great first lesson!
Uriah

-
English Literature
Testimonials
Alex has tutored my son for A level English Language. He is thorough, patient and explains things in an accessible way. He has shown my son how to access the top marks and rapidly improved his predicted grades from B to A/A*. He has been incredibly flexible, responding to last minute requests and even checking over his coursework for him. I cannot recommend him highly enough. Lesley.