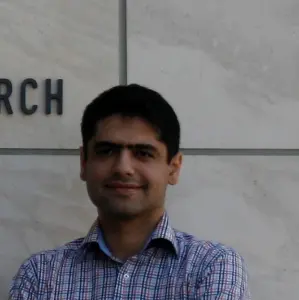 Online Mechanical Engineering Tutor Saber
Saber 5.0

157 classes
Swansea University - PhD - Impact Research fellow
I am an associate Professor of Mechanical engineering at Urmia University of Technology and currently an impact research fellow at Swansea university
Recent Students:

16

Total Hours:

211

Last Online:

27 May 2023

All-time Students:

33

Total Classes:

157

Signed Up:

27 Apr 2022
About Me
I am 37 years old and I have been an associate professor since 2017 at Urmia University of Technology. Currently, I am working for Swansea University as a research fellow. We are working on the nonlinear dynamics of MEMS energy harvesters and heading to develop novel bandwidth broadened energy harvesters. I have been working on the nonlinear dynamics of MEMS for the last 15 years and have several international collaborations and more than 40 journal publications which have been published in the most prestigious journals relevant to the fields of vibration, dynamics, and MEMS. I have the experience of in-person and distant collaboration with various universities in the world including, RMIT University of Australia, Clarkson University of US, Sultan
Qaboos University of Oman, and the Swansea University of UK. Here at Swansea, we are working hard in our research group to secure research funds to develop and industrialize our ongoing projects.
Tutor Experience
I have taught various courses both for under grad. and grad. students at university for Mechanical, Aerospace, and Mechatronics engineering students at my home university UUT. The courses include, Engineering math, Statics, Dynamics, Vibration, Advanced Vibration, Nonlinear Dynamics and bifurcation, Strength of Materials.
Topic Expertise
I am an expert in the field of vibration, dynamics and nonlinear dynamics. I have a lot of experience in designing and modelling MEMS mass, acceleration, pressure and .. sensors. I have been working in modelling and dealing with the analysis of the governing motion equations for many years.
Client Reviews
amazing class
Hamad

-
Mechanical Engineering
It was very good.
Jugdev

-
Mechanical Engineering
Thank you so much.
Raheem

-
Mechanical Engineering
Saber demonstrates how I could portray the phase planes of of system of ODE's using MatLab. He was able to cover the two examples in a short time using simple ways.
N

-
Mathematics
Saber is an excellent tutor! He is very analytical, calm and cares that you actually understand. He helped me through my assignment while providing me with a safe learning environment where I was comfortable to say "I don't know" and "I don't remember". I highly recommend him and I can't thank him enough.
N

-
Mathematics
This session was perfect and exactly what I needed in relation to the topic we looked at. Everything was explained in stages and nothing was rushed or skipped over which was perfect and really helped.
George

-
Mechanical Engineering
Saber improves every session, I will be seeking to be tutored throughout by him
hardeep

-
Mechanical Engineering
Very informative tutoring, tailored towards my requirements for teaching.
hardeep

-
Mechanical Engineering
Went through Matlab code very thoroughly and helped iron out all the issues that I had with it efficiently
Fridolf

-
Mechanical Engineering
Very helpful
Fridolf

-
Mechanical Engineering