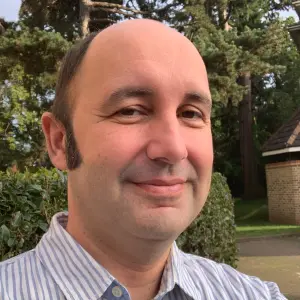 Online Physics Tutor Kaya Civan
Kaya Civan 5.0

688 classes
Bosphorus University - BSc Physics and Teaching - BSc
20 Years Physics and Math Teacher / IB Examiner
Recent Students:

16

Total Hours:

713

Last Online:

06 Jun 2023

All-time Students:

46

Total Classes:

688

Signed Up:

08 Oct 2020
About Me

Kaya is a top-quality Physics and Maths Teacher, with 20 years of experience teaching in International Independent Schools.

Tutors Physics and Maths for GCSE, IGCSE, and A-level students.

Tutors IB Physics as well. Plus, he is an Examiner.

DBS checked tutor with experience tutoring in AQA, OCR and Edexcel boards.

He tailors the lesson regarding the individual needs of each student.

He has been tutoring Online and Face to face to various levels of students. His online lessons are totally interactive keeping the student's focus throughout the session. The lesson notes are sent as pdf after the session.

He is excellent at motivating the students. He also prepares students for the entrance exams of independent schools.

He had attended various International IB Physics workshops and many conferences on education.


Tutor Experience
I am a teacher with 20 years of teaching and tutoring experience. I do interactive online tuition, over 5000 hours.

In private tuition, I establish student`s interest and focus to science and maths by developing curiosity. I believe private tuition is more than just teaching the subject. I encourage my students to be successful by drawing their attention to the topic. Eventually, they feel motivated to learn and study.

Different students require different approaches to learn and succeed. I have been coaching my students to achieve the best for 20 years. It's critical to adapt the teaching method to the individual student.

I have experience tutoring home-schooled students as well.

Topic Expertise
IB Physics, A level Physics, GCSE Science and Math
Client Reviews
amazing class learned alot
Marina - Hugo

-
Physics
Very clear and makes things really simple and interesting
Khaled

-
Physics
Everything was well explained and in good detail.
Tumi

-
Physics
Very good tutor who made everything in Topic 1 on Physics seem very easy
Bhuv

-
Physics
Testimonials
"Kaya is an excellent tutor. He motivates the student. He can understand the needs of the individual student and adapts his teaching. I guess he developed this valuable skill by experience." — Jane from Richmond
"Highly competent maths tutor. " — Luke from Hampton
"Very professional" — Cristel from Wimbledon
"Extremely helpful and clear, he has helped enormously with GCSE preparation." — Michaela from Ham
"My daughter did very well in her GCSEs, I recommend Kaya especially to the students who have difficulty in focusing" — Christine from Kingston
"Very competent and patient tutor. We are very happy with the improvements that we can see after just a few lessons. Highly recommended" — Carrol from London