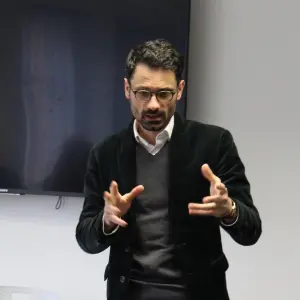 Online Tutor Andreas
Andreas 5.0

371 classes
Goldsmiths, University of London - Politics and Philosophy - Lecturer
Andreas is a university lecturer of Politics and Philosophy with the University of London with well over 1,000 hours of professional private tuition experience. He also acts as an A-level Politics external examiner for Colfe's - one of London's oldest independent schools
Recent Students:

19

Total Hours:

395

Last Online:

04 Jun 2023

All-time Students:

74

Total Classes:

371

Signed Up:

27 Aug 2017
About Me
My teaching motto is that 'you do not really understand something unless you can explain it to your grandmother`. I offer a holistic approach to teaching in seeking to inspire and guide students to reach the essential core of philosophical and political inquiry. My approach to teaching has afforded me the runner-up position for the Peake Award for Excellence in Learning & Teaching, an award offered by the University of London to student nominated lecturers. To date all my A-level students have achieved, where possible, higher than their predicted grades with a supermajority of them achieving A and A* grades.
Tutor Experience
I am a 36 year-old Lecturer of Politics and Philosophy. I teach courses in Modern Political Theory, Ideologies and Contemporary Political Philosophy. I also hold pastoral and academic support roles that include being the Director of Studies for first year students as well as the convener of the Politics Study Skills Seminar and the Politics Dissertation Seminar. In addition, I act as an external examiner for Colfe's - one of London's oldest independent schools - for their A-level Politics exams.

In addition to my lectureship post, I have been, for the past nine years, a private tutor to hundreds of A-level and university students from varied backgrounds and look forward to working with many more in years to come in view of helping more young minds reach their full academic potential.

Topic Expertise
For University students:

Modern Political Theory (especially Hobbes, Locke, Hume, Rousseau, Kant, Marx, Bentham, Burke, J.S. Mill)
Contemporary Political Philosophy (especially theories of justice including Rawls, libertarianism, analytic Marxism, F.A. Hayek and libertarian anarchism)

For A-level students:

AQA, Edexcel and OCR A-level Government and Politics
AQA, Edexcel and OCR A-level Philosophy
AQA, Edexcel and OCR A-level Religious Studies (Philosophy and Ethics)



Client Reviews
Andreas is an excellent tutor, very clear and explains well
Antonio

-
Politics
An extremely helpful session! Andreas guided me through the analysis and arguments I could explore, clearly and concisely. Thank you!
Fia

-
Essay
fantastic lesson, it really helped me grasp my essay and how to structure it.
Louis

-
Philosophy
Andreas has been a great help the last couple months! Very passionate and explains things very simply when I need him to! Thank you!
Ashlyn

-
Politics
Excellent!
Claudia

-
Philosophy
Exceptional!
Claudia

-
Philosophy
Very thorough, detailed and helpful.
Ethan

-
Essay
Undoubtedly the most informative and engaging discussion I've had with an academic. Andreas has an excellent ability to explain complex philosophical concepts into precise, succinct and accessible understandings, as well as linking them to contemporary political issues. Also provided detailed guidance on essay planning and selection of academic literature.
Samuel

-
Politics
I thought the fact I could take away the notes away after the lesson. I like the discussion concept of our lessons
Nik

-
Politics
Passion and expert knowledge abundant, looking forward to further classes.
Nik

-
Politics
Testimonials
Written by Ellada G --Positive Review-- Andreas is a great tutor- he explains topics clearly. He is very knowledgeable about the subject he teaches. He knows how to make a subject interesting.
Written by Mara O --Great, professional tutor -- Andreas was my Politics A-level tutor. He began tutoring me after I got a C grade for my AS exams and decided to resit. The result was incredible. I ended up getting an A* for my A-level. Andreas is a master of his subject, he teaches ideas at a depth usual of a university class and prepares you meticulously for the exams. Andreas not only taught me politics but taught me how to build ideas and write coherently and clearly.
Written by Im G --My fantastic time studying under Andreas-- I employed Andreas to teach me study skills, large sections of my politics and sociology degree course and general philosophy. Andreas has an extremely high level of knowledge concerning the subjects that he teaches and he never teaches a subject that is not within his specific research areas. Andreas' lessons are extensive, structured, well-presented and are usually formulated to include the very epistemic foundation of the content; a foundation that forms a solid structure to build the particulars of the subject on. Through providing structured lessons and an extensive set of course notes, Andreas equips his students with a knowledge of their subjects that will certainly exceed course requirements. In light of study skills, during my degree, in the first year, my writing was absolutely abysmal and, consequently, I was achieving an average grade of 45% on my essays/exams. However, once I started seeing Andreas, my grade average went to around 85%+ on several of my modules. To achieve this, Andreas taught me reading and note taking skills; essay planning; sentence and paragraph structure; argumentation and critical thinking. Andreas has an innate capacity to communicate complex ideas in simple terms. Andreas is a brilliant writer himself and, therefore, is exceptionally good at teaching students how to conceive of and realise the completion of a successful essay. Andreas' passion, commitment, teaching ability, structured communication, depth of knowledge and interpersonal skills make him a tutor that can change a student's academic life. During my experience, I concluded that Andreas isn't really a personal tutor for the money, rather, he is in it for the teaching itself, which is personified in his joy at seeing students improve. I quickly realised that Andreas sometimes gained more from our relationship than I did. I graduated with a 1st class degree.
Written by Ruby F Andreas is my a level religious studies tutor Andreas has helped me in my RS studies for over a year now. He has been a tremendous help! He knows every topic in great depth and our discussions are always engaging, making it easy and enjoyable to study RS with him each week. With Andreas's help I was able to get an A* with 100% in the Unit 2 and 4 papers.
Written by Jamie D. Enthusiastic and Inspiring! If I could I would tell every new student of Andreas' that they are lucky to have him. His passion and enthusiasm for the material we covered matched his professionalism. He taught me beyond the syllabus and I felt as though I was an undergraduate student at a top-class university. His teaching was inspiring and effective – I found myself feeling confident, easily understanding concepts that my peers at school struggled with and wanting to learn more. There came a moment when I realised that Andreas saved my A levels and for that I am very grateful. My only regret is not having Andreas as a tutor sooner.