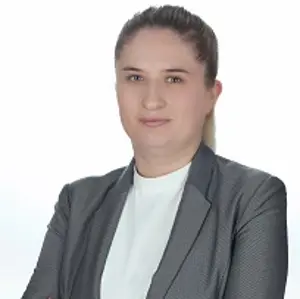 Online Tutor
Izabela 4.8

21 classes
Coventry University - MSc in International Business and Economics - Masters in Science
95% A* and A success rate in Economics and Business A levels.
Recent Students:

0

Total Hours:

16

Last Online:

15 Oct 2021

All-time Students:

11

Total Classes:

21

Signed Up:

23 Mar 2017
About Me
Away from my work in school I have lots of enthusiasm for trying out different sporting activities. I took an in depth 18 month yoga course. I love to do yoga classes and practice wherever I have the available space (literally and figuratively). I also love to spend time outdoors walking and rock-climbing. During the summer I enjoy travelling, especially in Asia, and aim to see as much of the world as possible!
Tutor Experience
I have over 10 years of tutoring experience.

Having tutored for several years, I am familiar with all major exam boards (Edexcel, OCR, AQA, CIE, IB,) and for University level, the general structure/format of exams that institutions typically set. I employ a pragmatic style that really delivers results and I generally look to improve grades by at least 2-grade boundaries, with the majority of my students receiving the top grade possible.

Furthermore, while many tutors may very well offer tuition regarding the material - I also pride myself on being able to help students with the other, less tangible skills required such as Exam technique and, crucially, Confidence. I feel this adds a huge amount of value and can impact grades significantly given the "it's how you perform on the day" factor. For those students who are at all panicked, nervous or worried by looming exams, I will ensure that this is no longer an issue by exam day.
Topic Expertise
Over the past 10 years period, I have built up a wealth of experience. Whether it be continuous support throughout the year or purely exam preparation, I ensure students can more fully understand the subject and, crucially, get top grades.

Four main factors have contributed to my success so far,

- I have high expectations of myself and my students, I believe every student can achieve the best grades with the right help

- I instil confidence and a "can do" attitude in students, regularly reminding them that nothing is "hard" if you have been shown how to do it properly

- I listen to students, this keeps lessons interactive and ensures I have constant updates on their thought process and current understanding

- I am a dedicated, hardworking, creative, inspirational and humorous person. I am positive, caring, curious, inquisitive and vibrant. I am passionate about teaching, and believe as a tutor, and as a person, we are invaluable in helping children achieve their potential.


I offer a 'no strings attached' initial consultancy via phone call where I can answer any questions you might have.

I look forward to hearing from you.
Client Reviews
It was the first time to have an online tutor so I'm not sure how it usually goes, but my tutor today was very nice and explained the topics very easily for me to understand.
Kenji

-
Economics
Testimonials
Isabel is a fantastic tutor, her patience and ability to prioritise the students education and understanding over everything, is unbeatable, and I am yet to find a tutor who is able to do this so well. She was patient and went at a pace that allowed me to really learn and understand the topics and reach all my targets. I really enjoyed and appreciated having Isabel as a tutor and she massively boosted my confidence going into the exams. I would definitely recommend Isabel as a tutor.
Izabela is a very enthusiastic, friendly and punctual tutor and my daughters confidence of the subject has improved after having lessons with Izabela. My daughter says: We went through the topics I lacked confidence in and she taught me the key points I need to know. She helped me to use the knowledge I already have as well. She enjoyed having lessons with Izabela. Thank you.
Izabela is a very caring, punctual and enthusiastic tutor. My daughter enjoys her lessons and says: Izabela is a very friendly and patient teacher. She explains the information clearly using examples that are not in the text book or taught in lesson so I can understand it in more depth. She is knowledgeable about the subject and makes the information more interesting than the textbook. She encourages me to talk more and discuss the information which helps me memorise the information for my exam and gain confidence about the knowledge I have. I learn quite a lot in each lesson and time passes so quickly. She teaches at a pace that allows me to understand the information properly but we still go through a lot in one lesson. Thank you!
Izabella helped my daughter with a 2nd year uni economics resit which she was very very nervous about. She passed without any problem thanks to Izabella's tuition and her help in boosting my daughters confidence to go into the exam and not panic. I would highly recommend her.
Isabel was an excellent tutor who explained everything really clearly and with ease, often using real life examples and scenarios which really helped me understand things I could not do before. Isabel set me tasks weekly (often mock exams) which greatly improved my essay writing skills, especially timing and making the right points and evaluations. .She also talked to me a lot about real life examples relevant to economics from recent news, and pushed me to read up and find my own examples too - including these examples in the exams definitely added those extra marks. Also our tuition was done ONLINE rather than face to face! If you are looking for a tutor who goes extra mile and who is motivational, then get in touch with Isabel!
Our daughter was struggling with both her Business Studies and Economics A Levels and was predicted by her school teacher to achieve a D grade for both subjects which would not have allowed her to go to her chosen university, therefore we employed Izabela to provide her with additional support and guidance. She filled in gaps from her school learning , helped explain concepts and gave excellent advice on exam technique. She was also extremely helpful regarding help with university choices and degrees to study, along with writing their personal statement! Besides the above Izabela is a tutor that will go the extra mile for his pupils. When my daughter has a problem with economics she is happy for them to contact her outside of their tuition lesson and will (depending on other commitments) come back to her within the day. Izabela provided her own worksheets and would set homework which would always be marked for the next session. She would also always be available for any questions via email throughout the week. Employing Izabela as our daughters tutor was one of the best decisions and investments we have made! We can not than her enough.