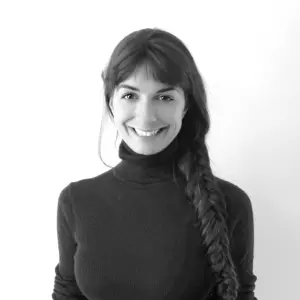 Online Architecture Tutor Sophia
Sophia 5.0
University of Cambridge - Architecture - Postgraduate Certificate in Professional Practice in Architecture - ARB/ RIBA Pt3
Multi-award winning, 10 years experience, fully qualified architectural designer, writer and entrepreneur.
Recent Students:

0

Total Hours:

0

Last Online:

05 Jan 2023

All-time Students:

0

Total Classes:

0

Signed Up:

10 Nov 2022
About Me
I love teaching as much as I love learning new things. I have a curious mind which has led me to live a varied and well rounded life so far. I love creating in all ways, travelling, exploring new ideas, learning new cultures and skills and meeting new people.
Tutor Experience
Design is an incredibly powerful force, which can bring meaning, value, beauty and joy to our lives. Everything has been designed - good design doesn't happen by accident. Whether it is a spoon, a piece of furniture or an entire masterplan - there is an iterative, problem-solving process which all architects and designers journey through before life-changing beautiful designs are realised.

I encourage my students to explore, play and learn to communicate with the language of design - ask questions, think outside of the box and push boundaries to make our world a more innovative, exciting and inspiring place to be!

I can guide students throughout the whole design process, and help with any topics you may want to explore. I will tailor classes based on your individual needs.

My class style has been described as encouraging, empowering and inspiring and I like my students to feel supported and confident in a friendly environment.

I tutor all ages and levels, from school age students up to industry professionals looking for a more creative edge, fresh perspective and new skillsets. I look forward to meeting you! :)
Topic Expertise
Areas I can cover:

- Architectural Design (From entry level to advanced)

- Art

- Software tips and tricks (Adobe suite, such as photoshop and Indesign, Revit, Rhino, GH, Enscape, emerging AI platforms, etc. )

- History and Philosophy

- Design thinking and problem solving
(I have won the Royal Society of the Arts Design Award, and have 10 years of experience in practice)

- Model making, visual communication and representation

- Any form of writing
(I have won the Architects Journal Writing Prize, The Berkeley Prize and the Benjamin Franklin Literary Prize for my writing, as well as been commissioned by architectural journals for articles on innovation. My writing has been widely published in the architectural press such as Building Design and Archdaily, and also translated into other languages)

- CV's, Portfolios, Applications, GCSE Art, Art foundation, General Advice!